Swachh Delhi, free from dengue, chikungunya: Kejriwal releases AAP MCD manifesto
Updated on Apr 22, 2017 11:30 AM IST
In its manifesto for MCD elections, the AAP has promised to make Delhi clean and free of vectors. It also promises to take steps to simplify construction norms and improve health facilities if votes to power.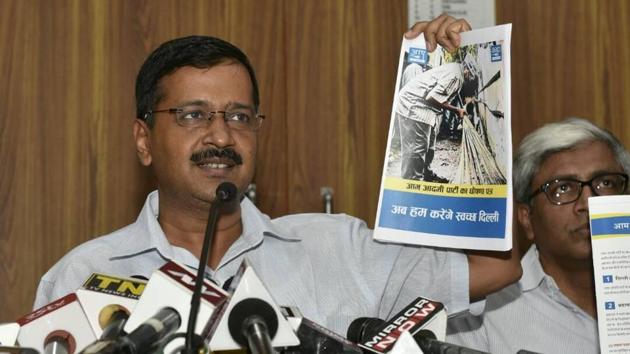 Hindustan Times |
, New Delhi
Vishal Kant and Sweta Goswami
The Aam Aadmi Party's manifesto for the municipal election, released on Wednesday, gave a big push to cleanliness drive in Delhi by promising to make the city free of vector-borne diseases in three years. The manifesto also promised that rules for building plans will be simplified to end corruption in the civic bodies.
Taking a dig at Delhi BJP for failing to take forward Prime Minister Narendra Modi's Swachh Bharat Abhiyaan, AAP convener Arvind Kejriwal said that state BJP had "back stabbed Modi".
The Arvind Kejriwal-led party is making its full-fledged debut in city's civic polls, with an eye to wrest power from the Bharatiya Janata Party, which has been ruling the three municipal corporations in the city for past 10 years. AAP made an 'impressive' entry in the municipal bypolls last year as it won five of the 13 wards where elections were held.
One of the biggest highlights of the AAP's election manifesto — waiving house tax against all residential properties — has already been announced by party's national convener and Delhi chief minister Arvind Kejriwal in his first jansabha at Burari earlier this month.
Here are the highlights of the complete manifesto released on Wednesday:
Cleanliness
Accusing the BJP of sabotaging PM Narendra Modi's pet project of cleaniness, Arvind Kejriwal said that the party had converted Delhi into a dump yard in the last 10 years.
The AAP manifesto promised to clear landfill sites by 2019 and to make the Capital clean. The party also promised to eradicate dengue and chikungunya from Delhi in three years.
Construction
The party's manifesto for MCD elections promised to simplify rules for issuing building plan to end corruption in the civic bodies. Kejriwal said that 10-15 approved sample plans will be made online for construction on lands up to 100 square yards.
He also promised that for construction on plots up to 500 yards, certificate from a certified architect will be enough for construction. Kejriwal said that the approval for layout plan of unauthorised colonies has been stuck due to the MCDs. He promised that all layout plans will be cleared once the AAP comes to power:
Education, health
The AAP manifesto promises to introduce Nursery and KG classes in MCD primary schools as in the Delhi government schools. Education has been a focus point for the AAP government in the Capitals too.
The manifesto for civic polls also promises that all health centres of MCD will be provided medicines for free.
House, Water, Power
As announced earlier, house tax against all residential properties will be waived off. Besides this, the manifesto promises to extend the Delhi government's power subsidy and free water scheme to tenants across the Capital. To resolve the acute parking problem in Delhi, the AAP manifesto promises to introduce a mix of surface and multi-level parking lots across the city.
Personalise your news feed. Follow trending topics