Yusuf Sarai: Where AIIMS 'medical migrants' look for abode
Updated on Jul 31, 2015 01:46 AM IST
Yusuf Sarai, a south Delhi village, is perhaps the only kind of a place in the country whose entire economy depends on AIIMS medical institute. An assortment of shops line its narrow streets where people come for food, shelter, documentation, travel booking, etc.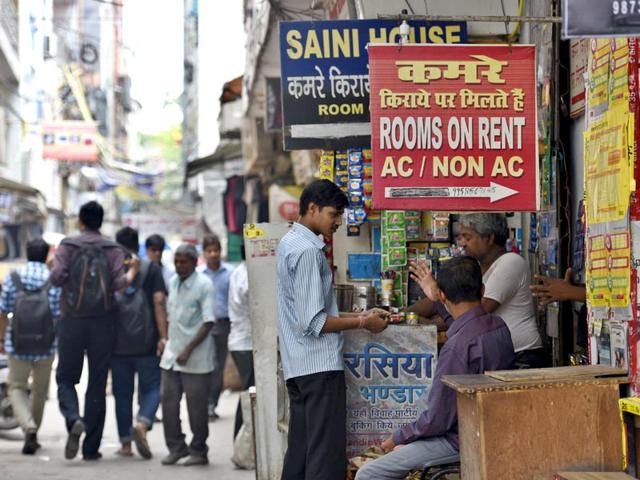 Bablu Kumar, 42, from Bihar's Bakhtiarpur, is a picture of exasperation as he looks for a room to rent in a narrow street of Yusuf Sarai in south Delhi for his mother, wife and himself. Kumar is in the Capital with his family for treatment of his mother Sumitra Devi who is suffering from chronic bronchitis. The family had originally planned to stay in Delhi for a day, but now will have to prolong their trip for a week to keep their appointment with a specialist at AIIMS.

After avoiding several touts, Kumar has finally found a 'guest house' that suits his budget. His mother who can barely walk, hobbles upstairs supported by her daughter-in-law and moves into a dark, cramped windowless room with an attached toilet and bathroom. It's pretty hot and stuffy inside, but Kumar is relieved. The room costs him Rs 500 a day.

"We had no choice but to come here as I couldn't find any place to stay at AIIMS. I have limited funds and cannot stay here for long," says Kumar, wiping sweat from his face with a towel. "You see I live near the ancestral house of chief minister Nitish Kumar in Bakhtiarpur, but that's not going to help me here."

Yusuf Sarai, a village in south Delhi, attracts thousands of 'medical migrants' like Kumar who flock to the medical institute for consultation and treatment. At any time of the day, one can see AIIMS patients looking for places to stay, accompanied by their relatives, clutching on to medical files.
It is perhaps the only kind of a place in the country whose entire economy depends on a medical institute. An assortment of shops line its narrow streets where people come for food, shelter, documentation, travel booking, etc. One can rent a non-AC room here for Rs 250; an AC room for Rs 800, cooking ware and utensils for Rs 20 a day.
One of the streets in the village called Mandir Wali Gali has dozens of signboards offering 'room on rent' that lead you to hole-in-the-wall receptions of nondescript houses converted into guest houses. Over the years, as the rush of patients increased at AIIMS, which is less than a kilometre away, so did the number of houses converted into guest houses. Interestingly, the 'association' of these guest houses calls itself 'Patients Stay Home Welfare Association'.
Earlier, according to Manoj Garg, general secretary, the association was called Yusuf Sarai Guest House Association. "What we are doing is service, not business, so we decided to change the name," says Garg sitting at his guest house's reception which is the size of a closet. There is a metal detector on the wall and a brand new CCTV camera in a corner. Garg's guesthouse, which has 15 rooms, once used to be his ancestral home.
But what may have also forced the name change is the fact these 'patients stay homes' -- some of them have as many as 25 rooms -- do not have licences to operate as hotels and guest houses. During our conversation, Garg took great pains to explain how everyone in Yusuf Sarai is committed to the welfare of AIIMS patients and why charity does not need any licence. "We are unnecessarily harassed by the authorities; our charitable stay homes should be allowed to operate without licences," says Garg.

Ram Singh Gupta, 74, the president of the local RWA too makes it a point to emphasise that locals are in the service of the sick. "People here started converting their houses in the 1970s, but the mad rush of the patients to Yusuf Sarai increased in the early 90s. Eighty percent of the patients who come here are poor and lower middle-class people from Bihar who cannot afford to live in hotels. So, some people started renting out their spare rooms to them, and others followed suit," says Gupta.
While several guest houses like that of Garg offer air-conditioned rooms, many others are in an advanced state of dilapidation, with wide cracks in the walls and plaster peeling off. On any given day one can see 3-4 people -- patients and their relatives -- sharing a dark, damp room.

Chandreshwar Mahato, manager at a guest house in Yusuf Sarai for more than 25 years, says at times he feels he is working in a nursing home and not a guest house. "Our every room has a patient. There are cases where patients die and families are too poor to take the bodies back home. So, they decide to perform the last rites in Delhi. I have attended the cremation of many patients," says Mahato.
Mahato is not exaggerating, there are also shops here selling biers and other material to perform last rites. "Our customers include relatives of poor patients who die. The relatives of other patients collect money to buy the material for last rites," says Ram Kumar Kain, who runs RK Puja Store.
Most customers of restaurants and shops are patients or their relatives. No wonder then, shopkeepers, whether running a grocery shop, or an eatery, refer to their customers as 'patients'. "Ninety five percent of my clients are AIIMS patients. Our business is bad in May and June when many specialists at AIIMS are on leave," says Sanjeev Gupta, who runs a small snacks shop.
Not far away from his shop is the restaurant of Ramesh Joshi, who is also dependent on AIIMS patients for business, "We are the oldest restaurant here and all my clients are patients," says Joshi, pointing to a group of people sitting in a corner, with a bunch of medical files piled on the table. A few years back, Joshi constructed five rooms above the restaurant to 'serve his patients better'.
Vikas Garg's utensils shop Garg Bartan Bhandar has been renting out cooking ware and utensils to patients for the past three decades. A lot of guest houses allow patients to cook on the roof or in the corridors. "My father started renting utensils and gas stoves. We take a nominal security and daily rent of Rs 20," says Garg.
While most locals have illegally turned their houses into guest houses and moved out, the few who are left resent the fact their village has become an abode of patients. "Over the years people have turned their houses into guest houses to cash in on the rush of patients from AIIMS. This place is just not fit to live anymore. Being exposed to the sight of the sick on a daily basis is disturbing," says a local, not wanting to be named.
Close Story
Personalise your news feed. Follow trending topics