India needs to counter China's influence in Nepal without yielding
Nepal PM Oli's China visit points to ways strategic landscapes can change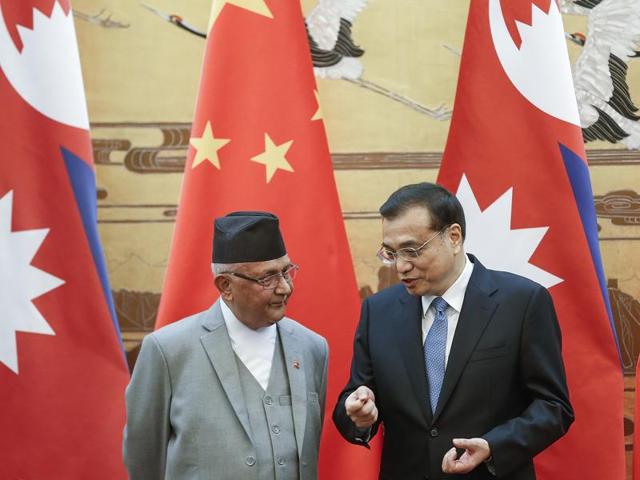 Published on Mar 22, 2016 09:25 PM IST
Nepal, a landlocked nation that uses India to ferry goods, has now secured transit rights through China. This is one of the outcomes during Nepal Prime Minister KP Sharma Oli's ongoing visit to China. This has generated a lot of interest in India, symbolic as it is of Kathmandu's intent to reduce its dependence on India and of the Nepalese political elite's resolve to steer a sovereign course even if it aggravates New Delhi. Nepal is, of course, well within its right to do both.
Read | Nepal-China transit treaty is posturing by Kathmandu, say experts
There are two things Indian policymakers and analysts need to be mindful of as they absorb the implications of Oli's "special mission" to China. One, get a bit of perspective on what has been agreed. Yes, transit rights are significant but China and Nepal are not yet in an interlocked geographical embrace. Chinese ports like Guangzhou are 2,844 kms from Kathmandu as compared to 866 kms from Kolkata. There are hence real cost and logistical limitations to factor in when considering potential for transit rights. India has 27 border points with Nepal while China has one and the main one at Tatopani is yet to open after last year's earthquake. China's fuel exports to Nepal have not materialized and it is also not clear how keen Beijing is on improving Tibet-Nepal connectivity for fear of activating Tibetan networks on both sides of the border.
Read | Nepal-India ties remain stuck on constitution
That said, this development has definite downsides for India. It underlines that unless political elites in smaller neighbours are carefully and sensitively cultivated they are likely to look further afield for allies and balancing actors. A globalizing world that enables China to overcome geographic barriers through finance and technological prowess also poses a frequent challenge India's claims to be the predominant power in South Asia. China is rapidly improving connectivity along India's northern border — and will be in a position to reorient economic exchanges in the region within a couple of decades. India has to honestly question which country's soft power is more compelling for the Kathmandu elite right now and craft policies accordingly — while continuing to urge Nepal to address Madhesi grievances. It's a tough balancing act to pull off.
Close Story