Pune Muslims punished over Ganpati donations shows growing intolerance in India
Updated on Aug 22, 2016 10:28 PM IST
In this country weaker communities are being chastised and browbeaten, right-thinking individuals are left aghast, modernity is being betrayed and inhumanity is striding along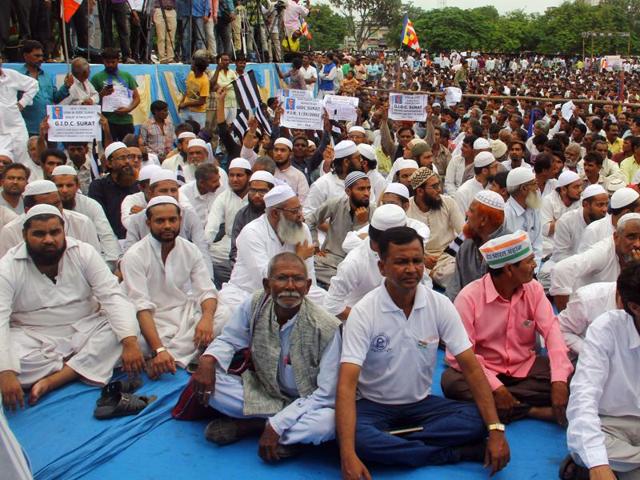 It is now becoming tough living in India as a minority, as shown by the incident in Pune in which some members of the Muslim community from UP were coerced into leaving the city for paying less than what was asked of them for a Ganesh festival. Such things are now hardly a surprise because all kinds of criminal activities are taking place in the garb of majoritarianism. There is criminality involved in this episode at successive levels. First, it was a serious case of transgression on the part of the Ganesh Mandal to have insisted on a payment of Rs 100 from each of the group. Next, when the Muslims pleaded that they were unable to pay more than Rs 50, they were humiliated by making them hold their ears and do sit-ups. This manner of "dispensing justice", much like what is done to erring students in school by supposedly paternalistic teachers, enabled the moral majoritarians to keep up the sanctimonious pretence that they were "punishing" the Muslims for a "grievous wrong that they had done". And such acts of criminality, when they take place in the name of religion, have a ring of acceptability in society.
Read: Social media posts: MP sees spurt in criminal cases
There are many reasons as to why such things are happening. First, this took place in Pune, which has been a communally sensitive place for long. Second, the miscreants are thuggishly emboldened now because they think they have a government in Maharashtra and one at the Centre that are sympathetic to their "religious" cause, or at least will look the other way when they pursue their "godly" mission with zeal. Third, it is not often that governments these days are protesting against such dastardly acts and, even when they do, the protests are so feeble, wishy-washy and partial that they sound like appeals to the wrong-doers to tone things down. And fourth, as the police are always alive to governmental thinking, stated or subtle, they "tactfully" refrain from intervening when such things take place. Though there have been a few arrests in this case, there is now little hope of the victims getting justice.
Read: A slogan is no reference point for patriotism
All this leaves weaker communities chastised and browbeaten, right-thinking individuals aghast, modernity betrayed and inhumanity striding along.