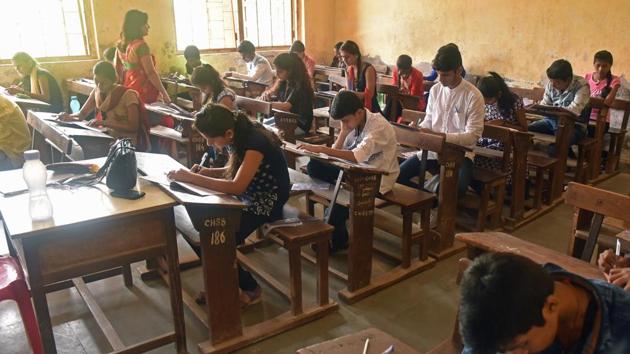 Bihar board Class 10, 12 results by May-end: Officials
The Bihar School Examination Board (BSEB) will declare the results of Class 10 and 12 board examination by the end of May.
UPDATED ON MAY 03, 2017 02:22 PM IST
The Bihar School Examination Board (BSEB) will declare the results of Class 10 and 12 board examination by the end of May after an agitation by school teachers demanding better pay and service conditions delayed the evaluation of answer sheets, officials said on Wednesday.
Bihar board chairperson Anand Kishor said that evaluation has been almost completed and decoding process is on to finalise results.
"Despite a lot of problems during the start of the evaluation process, we have made up for the lost time and hope to publish results by May-end," Kishor added.
Hit by reports of rampant cheating in 2015 and the intermediate toppers' scandal a year later, the BSEB initiated reforms, including bar-coded answer books, and completed its board exams before the Central Board of Secondary Education (CBSE) and Indian Certificate of Secondary Education (ICSE).
The intermediate exam, which was taken by over 13 lakh students, ended on February 25 and the Class 10 exam, in which over 16 lakh students appeared, got over on March 12.
The board had decided to complete the evaluation of intermediate or Class 12 answer sheets between March 15-30 and those of Class 10 between April 1-15 so that it could have ample time to process and tabulate.
However, it was stumped by the agitation 'Shiksha Satyagraha' of around 22,000 secondary teachers from April 1, which threatened to derail the evaluation process. Around 15,000 teachers from aided institutions also joined the agitation and stayed away from evaluation work.
They chose an opportune time to put pressure on the government for their demands, including equal pay for equal work and implementation of the agreement reached with the government on May 12, 2015, under which their service conditions were to be laid down within 3 months.
A desperate board chairperson deployed graduate and post-graduate teachers from primary and middle schools for evaluation work after getting the eligibility provision waived off by the government. The delay in declaring the results can play a spoilsport for lakhs of students who move to different parts of the country in search of better avenues every year.
It also asked district magistrates to carry out evaluation work during overtime/night shifts and rope in teachers from CBSE, Kendriya Vidyalayas, and other schools to complete the process. However, CBSE schools and KVs did not accept it citing their own reasons.
After the teachers did not buckle under tough posturing by the government, which resulted in arrests and lodging of FIRs against them, the government called for a fresh round of talks and convinced them about its concern and assured to take back cases. They called off the agitation on April 15 and joined evaluation work from the next day.
"Had there been no agitation, we would have been in a position to publish results by now. Despite the delay, we have made up for lost time in the last 15 days," BSEB secretary Anup Kumar Sinha said.
Close