CBSE Class 10 paper leak: Jharkhand police detain six students, coaching centre owner
The probe has indicated the group received the CBSE Class 10 maths paper from New Delhi and Bihar, police say.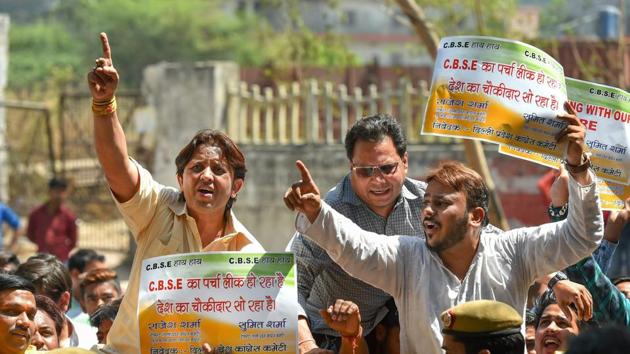 Updated on Mar 30, 2018 04:47 PM IST
The Jharkhand Police have detained at least six students and a coaching centre owner in Chatra in connection with the leak of the Central Board of Secondary Education's Class 10 mathematics paper.
The probe was pointing to an inter-state racket, as the group allegedly received the question paper from New Delhi and Bihar on WhatsApp and sold them to students.
Police refused to name the people it had detained, saying the investigation was still on.
"We had detained a few students and the owner of a coaching centre and have got breakthroughs. Some of them are still under detention. We should be in a better position to disclose all the details in next 24 hours," Chatra superintendent of police Akhilesh B Verior said on Friday.
Read: CBSE retest: Students defend 'Bhaiya' accused of paper leak
The probe was pointing to an inter-state racket involving Bihar, the SP said, adding a police team had left for the neighbouring state.
The question papers were sold for a hefty amount but the exact price was not known, police said.
Admitting to question paper leaks, the country's biggest school board had on Wednesday said 2.2 million students would have to reappear for Class 10 mathematics exams and Class 12 students for economics, a decision that had caused widespread anger and distress.
Students have held protests against CBSE and the Opposition has targeted the Modi government for what it said was another leak. Delhi Police suspect that the handwritten copies of the question papers that were circulated on social media could have been put together in the Capital.
Read: Anonymous caller, letter and question paper on Twitter: How CBSE leak surfaced
Jharkhand has faced similar problems. Last year, the arrest of a middleman had busted an exam racket. The middleman was caught with the answer sheets he had collected from the homes of two students, appearing in the intermediate exam, for submission at the examination centre.
Close Story