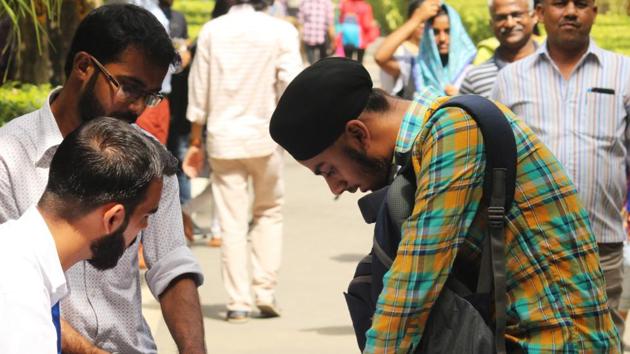 Delhi University admissions expose sorry state of ancient Indian languages
As a fresh batch gets ready for DU and other universities across the country, questions on usefulness, viability and the way forward also trouble those who want to pursue ancient and Indological languages like Pali and Prakrit.
UPDATED ON JUL 10, 2018 07:24 PM IST
Five years and two degrees later, Pooja is unsure of what value her higher education in Sanskrit will hold in the future.
How many times will she have to appear for the National Eligibility Test before qualifying as a lecturer? Will she ever get a job? Or will her efforts be rendered futile and she will have to sit at home?
These are some of the many concerns worrying 23-year-old Pooja, who initially wanted to pursue a course in History, but took up Sanskrit after failing to make the cut in her preferred subject.
As a fresh batch gets ready for Delhi University and other universities across the country, questions on usefulness, viability and the way forward also trouble those who want to pursue ancient and Indological languages like Pali and Prakrit.
Pooja rues the limited number of career opportunities that follow a degree in Sanskrit but has also fallen in love with the language.
"People keep asking me what I will make of a degree in Sanskrit in today's time. One can either become an academician, a translator or take up some job in the media industry," she told PTI.
"But as I started studying the subject, I realised Sanskrit is a beautiful and liberal language," added Pooja, who did her bachelors and is completing masters in Sanskrit from Delhi University.
According to Pankaj Mishra, an associate professor of Sanskrit at St Stephen's College, the diminishing interest in the language is due to paltry job opportunities with miserable pay.
"Translators are paid as low as Rs 200-300 per page, which is less than what a daily wage labourer gets," Mishra said.
A sense of "inferiority" in those studying and teaching Sanskrit, particularly because of their inability to communicate fluently in Hindi and English, is also to blame, he said.
While the highest cut-off for English and Hindi went up to 98 and 91 per cent respectively this year, the corresponding score in Sanskrit was 85 per cent.
Of the 69 colleges in Delhi University that offer arts and commerce courses, only 29 offer courses in Sanskrit.
Vidya (name changed) was keen on pursuing Sanskrit further after studying the subject till Class 10 but missed out on the opportunity in Classes 11 and 12 because she did not have adequate information about the availability of a Sanskrit course.
"Sanskrit comes naturally to me. But I couldn't take it up in senior secondary classes because I didn't know if it was being offered at all," she said.
Vidya, a visually challenged student, has now taken admission in Sanskrit honours in Miranda House college this year. She is also concerned about her course books being available in braille.
Dipankar Mukopadhyay, a Sanskrit professor in Calcutta University, says sufficient funding and scholarships can help revive interest in the language.
"If scholarships and funding are provided, interest will be rekindled in academia, which will eventually lead to the proliferation of the language," he said.
Pali suffers the same fate.
According to an official from the Buddhist Studies department of Delhi University (DU), about 125 out of 234 seats in the masters course remain vacant every year. The department also offers certificate courses in Pali, the language in which several Buddhist texts were originally written.
KTS Sarao, head of the department, said religion-language association also influences students' decisions to pursue a subject.
"Why should Sanskrit invariably be linked with Hindutva? Pali is inherently linked to Buddhism, but why is Buddhism in this country linked to the scheduled castes?" In his view, Ambedkarite leaders have hijacked Buddhism to create the perception that to be a Buddhist is to be from a Scheduled Caste. "But Buddhism has no such thing as caste," he asserted.
Acknowledging the sorry state of these languages, particularly Sanskrit, the governments of Delhi and Haryana have taken several measures to revive interest in the subject.
Earlier this year, the Delhi government announced its plans to start 70 Sanskrit centres across the city to keep the language alive and make it more accessible and relatable.
Last month, the Haryana government said it was planning to re-introduce Sanskrit as an optional subject in the state government colleges, after classes in the subject were stopped by the Higher Education Department citing "very low attendance of students".
The brunt of the decreasing number of students studying Sanskrit, Pali and Prakrit is in turn being borne by book stores and publishing houses dealing in texts in these languages.
Motilal Banarsidass in Delhi University's North Campus has managed to stay in business for over a century and houses books on an array of subjects, ranging from comparative literature and Vedic mathematics to mythological texts.
However, their business has taken a hit in the absence of good translators and scholars in Indological texts, R P Jain, director of the book store, said.
Praveen Gupta of Chaukhamba Sanskrit Pratishthan, another publishing house in the area, echoed Jain's sentiments.
"The limited number of good authors writing on contemporary and conventional parameters of Indological writing has contributed significantly to the diminishing sales of these books," Gupta said.
(This story has been published from a wire agency feed without modifications to the text. Only the headline has been changed.)
Close