DU admissions 2018: Closed courses may reopen after 2nd list withdrawals
Jun 27, 2018 10:07 AM IST
DU admissions 2018: The second cutoff has seen 3,000 withdrawals over the two days and a few colleges may consider reopening admissions in wanted courses under third list
More than 20,000 students completed the admission process at the end of the second day of admissions under the second cutoff on Tuesday, which means more courses are expected to be closed when Delhi University releases its third merit list.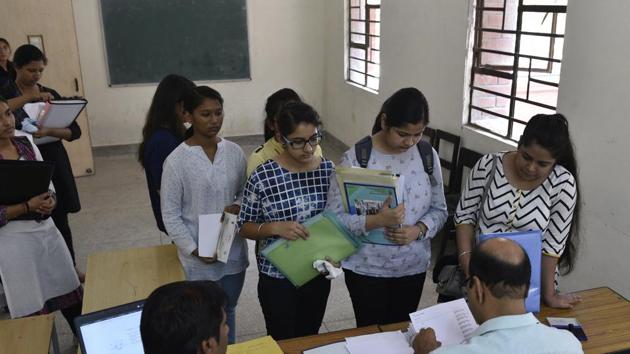 But students need not lose hope as some colleges may also reopen courses owing to around 3,000 withdrawals.
By 6 pm on Tuesday, 6,130 admissions were approved by colleges and around 3,600 had paid the fees. The total number of admissions in the first and second list now stands over 20,000, according to MK Pandit of the DU admissions committee.
Ramjas College, Hindu College, Gargi College, Miranda House and Shyama Prasad Mukherji College for Women reported the maximum admissions.
Shri Ram College of Commerce is not expected to issue a third cutoff for BCom (Hons) or Economics (Hons), as they have over-admitted students.
"For both Economics (Hons) and BCom (Hons, we have had over-admissions in the general category. We may have a handful of seats in some reserved categories but a third list seems unlikely for general category students," said Simrit Kaur, principal of SRCC. She said there are two OBC seats, and four SC seats available for BCom (Hons), and two ST seats and over 10 OBC seats in Economics (Hons).
Manoj Khanna, principal of Ramjas College, which saw the highest number of withdrawals, said that even after accounting for the withdrawals, they had approved admissions to around 1,100 seats.
Ramjas had closed admissions to four courses — BSc Physical Science with Chemistry, Hindi (Hons), BA programme and BCom.
"These courses are not going to be reopened in the third list. There is a possibility that Physics (Hons) and Political Sciences (Hons) will also be closed under the third list, but we will know for sure on Wednesday," Khanna said.
At Kirori Mal College, with over 450 admissions, and fewer than 80 withdrawals, a third list is unlikely for courses such as Political Science, Mathematics, Statistics and Geography, said Sunil Singh, member of the admissions committee at the college.
"But we can be sure only on Wednesday," he said.
However, the second list has also seen 3,000 withdrawals over the two days, Pandit said, which may mean that some closed courses may be reopened for admissions under the third list.
Most cancellations happened at Ramjas, Shaheed Bhagat Singh College, Gargi, Daulat Ram College and Shyama Prasad Mukherji.
Gargi, which had closed admissions to six of the 19 courses it offers, may reopen Political Science (Hons) course under the third cutoff list, principal Promila Kumar said.
"We had around 190 admission withdrawals under the second list. We may reopen some courses such as Political Science (Hons) in the third list. We will take a call on how much the cutoff can be dropped after admissions under the second list are completed on Wednesday," she said.
Shyama Prasad Mukherji had closed admissions to five of the 14 courses it offers but the principal said they might reopen Economics (Hons) and Philosophy (Hons) under the third list.