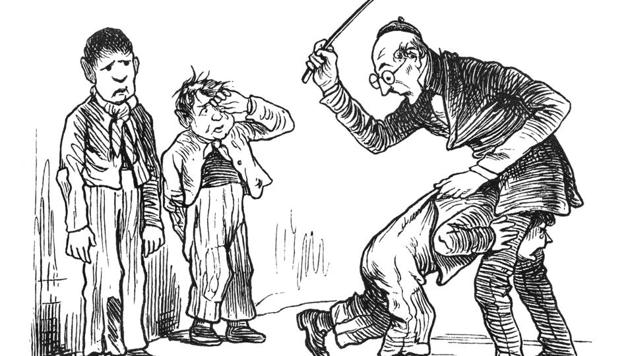 Maharashtra wants schools to follow national norms to end corporal punishment
The Maharashtra education department has asked its schools to follow guidelines issued by National Commission for Protection of Child Rights to end corporal punishment in schools.
Hindustan Times | By HT Correspondent
, Mumbai
UPDATED ON JUL 13, 2018 12:35 PM IST
The state education department has asked schools under its jurisdiction to follow guidelines issued by National Commission for Protection of Child Rights (NCPCR) to end corporal punishment in schools.
The norms were introduced in 2017 in the wake of an incident in eastern Uttar Pradesh wherein a teacher asked a few girl students to run on the playground without their skirts for not memorising Sanskrit shlokas. The guidelines ask schools to refrain from all kinds of corporal punishment, mental harassment and even discrimination on the basis of caste, community and gender.
Seema Hingorrany, psychologist, said the move to implement NCPCR rules is a positive step taken by the state. "So many cases of corporal punishment still come to us and parents have nothing to use against the school or teacher in such cases. With this law in place, the awareness will increase not just amid parents, but teachers as well," she added.
As part of implementation, schools across boards in the state will now have to form Corporal Punishment Management Cells to look into complaints of corporal punishment. This committee should comprise of two teachers, two elected parents, a doctor, a lawyer nominated by the District Legal Services Authority, an independent counsellor, an independent child rights or woman rights activist and two students, elected from a class which is not the highest class in the case of high school and higher secondary school.
Schools would also have to conduct workshops with students from time to time and workshops should also be held with teachers to help them suggest remedies to handle students without resorting to corporal punishment.
Prashant Redij, secretary of Mumbai School Principals Association said, "Restoring corporal punishment to discipline students is wrong. However self discipline seems like and ideal concept and schools need to be told as to how they should discipline students with effective methods."
Some of the rules set by NCPCR:
*Written undertaking by teachers that they would not engage in any action that could be construed as amounting to physical punishment, mental harassment or discrimination.
*It also says that schools should have annual social audits of physical punishment, harassment and discrimination. The guidelines suggest that results of the audit should be made public before start of every new academic year.
*All schoolchildren should be informed through campaigns and publicity drives that they have a right to speak against physical punishments, mental harassment and discrimination.
* *
Several provisions of the Indian Penal Code (IPC) relating to varying degrees of physical harm and intimidation can be used to prosecute perpetrators of corporal punishment against children in an institutional setting. These include, inter alia:
5.3.1 Section 305: Abetment of suicide committed by a child;
5.3.2 Section 323: Voluntarily causing hurt;
5.3.3 Section 325: Voluntarily causing grievous hurt;
5.3.4 Section 326: Voluntarily causing hurt by dangerous weapons or means;
5.3.5 Section 352: Assault or use of criminal force otherwise than a grave provocation;
5.3.6 Section 354: Outraging the modesty of a woman;
5.3.7 Section 506: Criminal intimidation;
5.3.8 Section 509: Word, gesture or act intended to insult the modesty of a woman;
Close