Paying touts for MBBS admissions? It will be cancelled, warns Medical Council
Updated on Jul 18, 2017 07:56 PM IST
NEET rules make counselling for MBBS admissions mandatory, but touts are making offers to candidates to join private colleges directly after paying hefty sums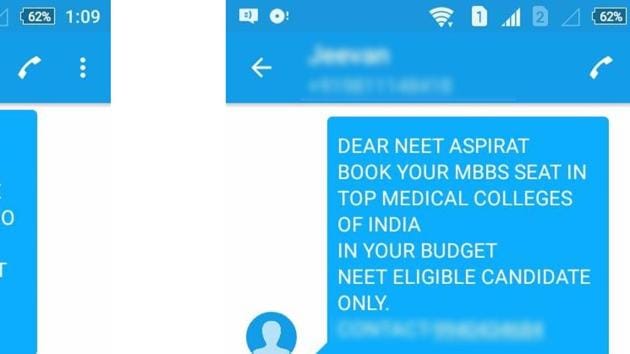 It's raining text messages on candidates who have qualified National Eligibility cum Entrance Test (NEET) this year from touts promising them seats in private medical colleges for anything between Rs 10 lakh to Rs 1.25 crore. Anyone tempted by such offers and skipping NEET counselling, which is mandatory for joining medical and dental programmes, runs the risk of having his or her admission cancelled, a senior Medical Council of India (MCI) official has warned.
He said such candidates would be caught out by the MCI as it gets lists from all state governments of all students who have appeared for counselling and selected their colleges.
"Students who get direct admission by paying money to agents or the colleges can be caught easily and we will cancel their admission," he said.
While NEET rules mandate admissions only through counselling, many people have complained of a flood of text messages from 'agents' or touts guaranteeing seats for money - without counselling.
When this correspondent, as a parent of a candidate qualifying NEET, met some of the touts, most were offering admissions to well known institutes in Uttar Pradesh.
"If you pay Rs 10 lakh, we can get your son admitted to any of the private medical colleges in UP," one 'agent' with an office in a posh east Delhi colony said.
This amount was over and above the regular college fee. Assuring that the admission would be valid, the 'agent' promised to introduce the candidate to the chairman of a private college in the state who would accept the amount as 'donation'.
"My commission is only Rs 2 lakh per admission. If you can bring more candidates, I can pay you half from my share, ie, Rs 1 lakh as your commission," he offered.
Another 'agent' in central Delhi 'advertised' a seat in a top medical college in Karnataka for Rs 1.25 crore.
None of the agents, however, said they had access to government colleges though some claimed they could "influence" government counselling as well.
"If the candidate hasn't applied for online counselling, he will have to pay Rs 5 lakh extra for getting his name included through the back door," another 'agent' said.
Academic experts warn students against falling into such traps. Many candidates with low NEET ranks might find such offers tempting but they should know it is illegal and will land them in trouble. NEET counselling is mandatory and joining a medical college directly can lead to disqualification of a candidate. Any attempts to gain a "back door entry" through an agent will not be recognised by the Medical Council of India (MCI) which oversees medical education.
Counselling of students is being done by the Medical Counselling Committee.
"Candidates have to apply for online counselling and then get all documents verified for admissions. After that they have to give names of preferred colleges and if they qualify for admissions in those colleges on the basis of their NEET marks they will be admitted," the MCI official said.
"This is the only legal way to get admission," he added.
Last year, the MCI cancelled the admission of 519 students from 37 medical colleges across the country for taking direct admission to colleges and skipping the counselling process.
These students are now fighting a court battle to legalise their admissions.
A number of medical colleges are also reportedly misleading candidates by asking them to take direct admission through management quotas.
"There is no management quota after NEET was implemented in 2016 and all admissions are through counselling," the MCI official said.
Out of 12 lakh students appearing appeared for NEET 2017, 6 lakh have qualified.
But according to the website of the Medical Council of India, there are only 59,570 MBBS seats available.
There are 26,000 seats available for BDS aspirants as per the Dental Council of India, which regulates the programme.
Since MBBS is a more popular choice, students and their parents are desperate to try out all possible means to secure a seat.
Close Story
Personalise your news feed. Follow trending topics