Unpacking the rise of the student housing segment in Indian cities
Updated on Oct 31, 2018 11:03 AM IST
There are approximately 34 million students in higher education, and most universities are able to accommodate just about 18 to 20% of the students which offers the premium student housing market diverse opportunities to experiment and fulfil student expectations.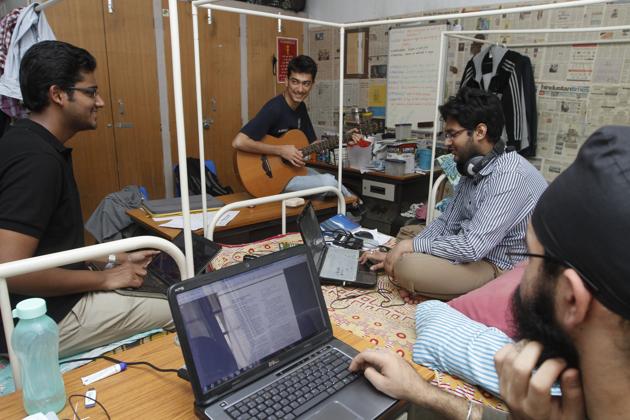 Hindustan Times, New Delhi |
Shubha Lal, Karan Kaushish, and Nidhi Kumra
The evolved higher education student seeks an ecosystem that offers a home away from home!
The education landscape in India has witnessed a significant revolution over the past few years, especially with regards to higher education. The private sector has invested significantly to introduce, international standard universities across India. There has also been a significant increase in new age courses and specialised universities that encourage students to pursue their passion and no longer be confined to the traditional cookie cutter approach. Some of the most prestigious international universities are seeking partnerships to enter the Indian market. With this boom in the educational sector, there is an immediate impact on one of the most essential aspects of a student's college experience – student accommodation options. With premium higher education institutions mushrooming across the country and the existing institutes getting a face-lift with high quality infrastructure and facilities, as well as classrooms equipped with latest technology, students are expecting more from every aspect of their college life, especially accommodation.
There are approximately 34 million students in higher education, and most universities are able to accommodate just about 18 to 20% of the students. This shortage in university supplied accommodation led to the sudden burst in the unorganised PG market with no uniform standards of rent, facility or safety. However, with improved educational standards and higher disposable income, both students and parents are willing to spend a little bit more for a housing experience that offers comforts and security, similar to those available at their actual homes.
The premium student housing market is growing exponentially as it successfully meets the expectations of both parents and students and continues to set new standards with regards to a holistic student living experience. Besides, providing a clean and hygienic environment with high quality furniture as well as basic necessities such as air conditioning, housekeeping, laundry, meals and security, a lot of premium student housing providers offer specialised services to cater to the needs and desires of students in different cities and enrolled in specialised programs. For instance, given the infrastructure and security concerns in Noida, students living in premium student housing expect transportation to and from the university as well as lunch delivery at the university itself! Meals at these premium student accommodations are not only healthy, hygienic but also delicious and wholesome. Along with offering evening snacks that range from papdi chaat to idlis, some of the premium student accommodations have also tied up with food delivery services and QSRs. Besides, the new age tech savvy students seek simple, quick and seamless solutions especially with regards to bills and basic housekeeping matters. Thus most premium student accommodations offer easy to use technology platforms where students cannot only pay their bills but also book the next cleaning service or laundry pick up. Similarly, students enrolled in specialised courses in correspondence with international universities and paying premium fees, are willing to pay slightly more for premium student accommodation that include a pool, state-of-the-art gym and even zumba classes. Thus, while the overall standard of quality and service is uniform and standardised across all units, premium student housing providers do not follow a cookie cutter approach and create offerings for various units to reflect the lifestyle and desires of the specific students.
Besides, infrastructure and amenities, every student living away from his or her home for the first time, seeks the warmth and comfort of a community that he or she can depend on for emotional support and guidance. Thus, the common room at these premium accommodations is well furnished and always buzzing with the energy of like-minded students forging great friendships over a game of foosball or FIFA. Often students living away from home, are unable to celebrate important occasions like birthdays and festivals with their family, and at these times it is heartening to see the community come together to fill that void and create memories to last a lifetime. Some premium student housing providers offer apps that serve as a common platform for the students of specific
housing unit to connect, share their concerns and even form study groups. This helps build a sense of community, especially for students from different cities, who find themselves in a new city amidst complete strangers with no immediate access to friends or family. The community helps students feel a sense of security and belonging and goes a long way in ensuring their emotional well-being.
Safety and security continues to be the most important factor for both students and parents. However, for students seeking higher education privacy is equally important.
They desire independence without unnecessary restrictions or judgements. Thus, most premium student housing facilities offer highest standards of safety with gated communities, corporate security agencies, 24/7 CCTV coverage, biometric access and restricted access to male staff. Besides, parents appreciate a cut-off time that is reasonable and strictly followed. Students, also appreciate the choice and privacy of unrestricted movement up until the daily cut-off timings. These students are stepping out into the real world and getting their first real taste of the responsibilities and privileges of early adulthood, and the premium student housing facilities create services that safeguard the student's interests while being respectful of their personal choices. Thus, most of them offer night passes post parental approval.
Students seek a comfortable, safe and seamless housing experience that serves as an extension of their own homes and gradually develops into an ecosystem that helps them find their own space as they embark on an exciting new journey gathering knowledge and life experiences. Students and parents understand the intrinsic value of a holistic premium housing facility and are increasingly leaning towards these rather than the traditional hostels or unorganised PG facilities. The premium student housing segment is at a nascent stage and the next few years will only further strengthen this segment both in terms of revenue and growth. However, the players will need to keep evolving themselves to cater to the needs and desires of the next generation of students with a heightened sense of individuality, who expect uniform standard of service and quality but with an increased level of customisation and personalisation.
Topics
Personalise your news feed. Follow trending topics