Aditya Rawal says 'son of Paresh Rawal will stop appearing in parenthesis' next to his name after a few projects
Feb 05, 2023 10:23 PM IST
Paresh Rawal and Swaroop Sampat's son Aditya Rawal has talked about being the child of well-known actors. Here's what he said.
Actor Aditya Rawal has opened up on the pressure of being the son of celebrated actors--Paresh Rawal and Swaroop Sampat. In a new interview, Aditya said that the fight is in trying to create his identity by expressing himself as an artist. He also said that after a couple of projects, 'the son of Paresh Rawal will stop appearing in parenthesis next to my name'. (Also Read | Aditya Rawal on father Paresh Rawal launching him in films: 'I never expected that')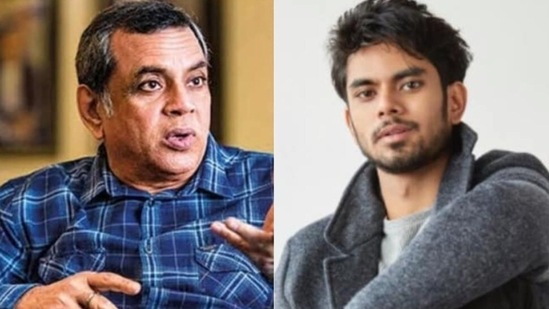 Aditya made his debut in 2020 with ZEE5 original film Bamfaad. He has also appeared in the Disney+ Hotstar series Aar Ya Paar. Aditya was recently seen in Hansal Mehta's latest film Faraaz. In Faraaz, which arrived in theatres on February 3, he plays a terrorist, Nibras, who holds several people hostage at a bakery in Dhaka, Bangladesh.
In an interview with news agency PTI, Aditya spoke about artists working in the entertainment industry. "One thing I would like to emulate from my parents is the length of their career, they are working for 30 to 40 years. Imagine doing something you enjoy. Even sportsmen get 15 years at best, if you are Cristiano Ronaldo or Lionel Messi, you get 20 to 22 years. In the arts field, you can keep working. There are rises, falls, hits and misses. As long as you enjoy the work, you are in a healthy space. I aspire to do this," Aditya told PTI.
He also said, "It's not so much fighting for anything as much as it is trying to create my identity by expressing myself as an artist as honestly as possible. After a couple of films or shows, 'the son of Paresh Rawal' will stop appearing in parenthesis next to my name… At that point, my work will have to speak for itself, as it does for everyone else. My hope is to work with filmmakers who have different life experiences and sensibilities, directors who will drive and challenge me because they are deeply passionate about the stories they tell."
Faraaz is based on the July 2016 terror attack on the Holey Artisan Bakery in Dhaka. The film also features late actor Shashi Kapoor's grandson Zahan Kapoor, Aamir Ali, and Juhi Babbar. The movie is produced by filmmaker Anubhav Sinha through his Benaras Media Works and Bhushan Kumar's T-Series.