Ahead of Pathaan, revisiting Siddharth Anand's War: The definitive action movie of a modern Bollywood
Updated on Jan 24, 2023 11:30 AM IST
On the eve of the release of Siddharth Anand's Pathaan, we revisit the film that set things in motion for the director, War. Starring Hrithik Roshan and Tiger Shroff, it was just what their careers and our screens needed.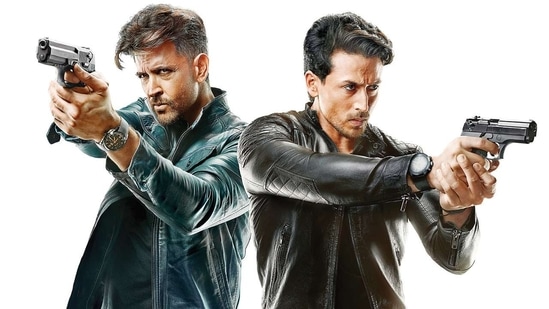 If I had to put my finger on a specific moment in the early portions of Siddharth Anand's War that announces the film's swag and style, and signals that we're in for something more triumphant than forgettable Bollywood action fair --it would be the end of the first scene. After Kabir (an endlessly watchable, ultra-smooth Hrithik Roshan with a remarkable command over his presence) has just shot and killed his own handler, we see him walking off a rooftop. Behind him, a glitching red neon sign that should read "Hotel Lotus" instead flashes the word "Hell". It's that cheeky moment, I think, that tells us that we're in for something more than the overly processed, blurry guns-and-glory action movie.
The rare Hindi movie that beautifully blends the scale and slick execution of a Hollywood action flick with Bollywood masala tropes and an unabashed celebration of stardom, War is the definitive Bollywood action movie of the modern age. And on this, the eve of Pathaan, it's worth revisiting its achievement. For one, War is full of memorable set pieces – the thrilling Portugal bike chase for starters. But, for me, none capture the film's polished execution and finesse quite like the airplane set piece, in which Kabir takes down a flight full of bad guys while it's in the air. In another film, you can imagine this same, sleek sequence without the same craft, shine or rhythm, instead resorting to gaudy CGI and excessive showboating.
Then, of course, there's the little matter of Hrithik Roshan. War marked the onset of Hrithik of 2.0, a transition we first saw signs of in Kaabil, which then came to fruition in 2019 with both War and Super 30. War marked the rise of a far more subtle actor. A star coming into his own, opting for the understated, embracing economy, and realising that less is, in fact, more. In War, Hrithik tears up the screen with effortless style like no one's business. More than any impressive set piece or fight sequence, it's Kabir's attitude and presence that stay with you. Hrithik not only brings a brooding, arrogant swag to Kabir but also awards a sense of humanity to the agent who puts the mission above all else. Not to mention granting us perhaps the greatest Bollywood hero entry sequence moment in recent memory.
War equally benefits from the winning Hrithik-Tiger chemistry, whose real-life disciple-mentor dynamic bleeds into the film beautifully. It's why War remains Tiger Shroff's best movie. For once he was willing to be a part of a film rather than be the film. As Khalid, Tiger plays an actual character rather than a desperate-to-impress muscle machine forever in search of an excuse to backflip and break bones for two hours. Khalid works not just because of the honesty in his eyes when he looks up to Kabir (homoerotic undertones aside) but because he felt fallible and human. It's why you feel for the real Khalid when you realise he's been dead for years. It's also just plain admirable that Tiger was willing to not only (partly) play the bad guy, but also play second fiddle to Hrithik.
Then there's also the fact that War remains the rare film from Tiger's testosterone-fuelled filmography to do actual justice to his impressive physical ability without feeling the need to rely on hyper-processed slow-motion shots and excessive cutting. Take his entry scene, for example - arguably the most memorable sequence in a film full of them. The 3-minute-long unbroken shot sees Khalid burst into a roomful of drug lords in a villa in Malta, and systematically slice through them one at a time using only his fists and scattered furniture as weapons. It's an impressively executed single-shot sequence of pure hand-to-hand rampage.
At a time when the action genre within Hindi cinema is dominated by disorienting assault on the senses excess, like its hero Kabir, War was drenched in attitude, nailed what it set out to do, and most crucially, did no more than it needed to. A delicate balance of sleek and swag, Siddharth Anand's War is not only the grand Bollywood action film done right, he also gave us an ode to Hrithik Roshan. Anand leaned into the star's Greek God-ness like few filmmakers before him while the star himself was at the peak of his craft. It's no surprise then, that King Khan chose the filmmaker for his own comeback project. But with Pathaan, Anand has his work cutout for him. The superstar he must do justice to and celebrate this time around, is the one we hold most dear. The one who's in desperate need of a win. The one for whom action and testosterone doesn't necessarily come naturally. As to whether the director is able to work wonders again and both reimagine and revisit the Shah Rukh Khan mythology, we'll know soon enough.