Anushka Sharma and Virat Kohli feed 100 saints during bhandara in Rishikesh, seek blessings
Jan 31, 2023 08:00 PM IST
Anushka Sharma and Virat Kohli organised bhandara to feed 100 Saints in Rishikesh. Photos and videos feature them seeking blessings with folded hands during the spiritual break.
Actor Anushka Sharma and her husband-cricketer Virat Kohli are on a spiritual trip, which kickstarted in Rishikesh. After visiting Swami Dayanand Giri's ashram, the couple arranged a religious feast, bhandara for 100 saints. Photos of the duo seeking blessings at the ashram have emerged on social media and left many fans impressed. Also read: Anushka Sharma and Virat Kohli reach ashram in Rishikesh for spiritual break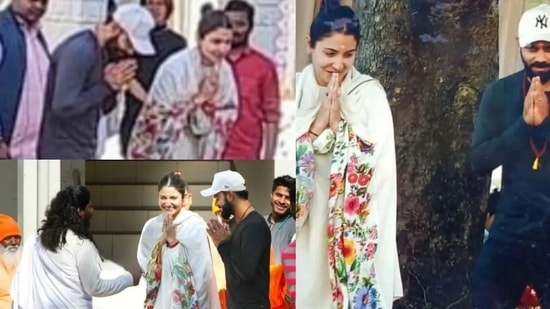 In the photos, Anushka and Virat Kohli are seen seeking the blessings of the saints who were sitting on the ground during the feast. As food was being served to them, the couple greeted them with folded hands and paid their respect. While Virat wore trousers with a sweater, Anushka wore a white salwar suit with a floral shawl.
They also clicked photos with fans at the ashram. Earlier in the day, Anushka posted a scenic photo of herself, meditating on a riverside. Reportedly, the couple will take part in more public religious rituals at the ashram.
Reacting to their photos, a fan wrote on Twitter, "No other cricketer or even celebrity has been so connected to roots the way Kohli is. Imagine going to Vrindavan, Rishikesh and Nainital. Like I have seen no other celebrity doing this thing but Kohli even after having so much fame is consistently travelling to spiritual places." "Ah, I see you're a man of culture as well," added another one. Someone also tweeted, "After marriage, Anushka made Virat spiritual. Good. That's a great couple. God bless the family."
It's not known if their daughter Vamika Kohli who is often seen traveling with them to spiritual places, is with them in Rishikesh as well. Previously, the family paid a visit to Baba Neem Karoli's ashram in Vrindavan.
Anushka and Virat Kohli's spiritual trip comes days before the Test series against Australia. It is also popularly known as the Border Gavaskar Trophy 2023. Australia will tour India in the coming few days for a four-game Test series, which will determine the top spots in the World Test Championship. These top teams will face each other for the one-off championship game at The Oval in June.
Anushka will be next seen in Jhulan Goswami's upcoming biopic Chakda Xpress.