Fans asks Shah Rukh Khan his monthly income, why he adds 'Khan' to his name. These were his replies
Jan 04, 2023 04:30 PM IST
During an AskSRK session on Twitter, Shah Rukh Khan revealed exactly what he 'earns' in a month, on a query from one of his fans.
Shah Rukh Khan held an #AskSRK session on Twitter on Wednesday as he completed 13 years on the microblogging social media platform. He answered several light-hearted questions from his fans. Including some queries on his monthly pay. (Also read: Shah Rukh Khan talks about 'unsavoury behaviour' on Twitter as he completes 13 years on the app)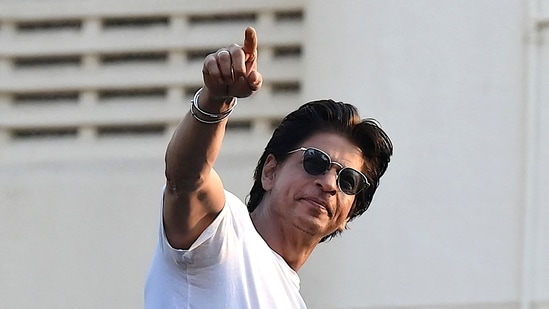 A fan asked Shah Rukh, "Ek mahine mein kitna kama lete hain (how much do you earn in a month)?" Shah Rukh replied with humility, "Pyaar Beshumaar kamata hoon… har din (I earn a lot of love every day)." Shah Rukh's fans loved his answer. "What an answer, I love it," wrote a fan. "Love you sir. You are awesome," wrote another.
A person even asked Shah Rukh Khan why he adds 'Khan' to his name, when he is from Kashmir. "Khan saab aap ki family background toh Kashmiri he na, phir Khan kyun lagate hain aap apne name ke sath (your family is from Kashmir then why do you put Khan to your name?)." Shah Rukh replied, "The whole world is my family… family ke naam se naam nahi hota… kaam se naam hota hai. Choti baaton mein mat padho please (the family's name doesn't give you a name. It is given to you by the work you do. Don't waste time on insignificant things)."
A fan also asked Shah Rukh Khan to wish a swift recovery to Rishab Pant after his accident. "@iamsrk Please send good wishes to rishabh pant for his speedy recovery," they wrote. Shah Rukh replied, "Inshaallah he will be well soon. He is a fighter and a very tough guy."
A person even got mean with Shah Rukh and said, "Pathan disaster already. Retirement lelo." He replied, "Beta badhon se aise baat nahi karte (son, one doesn't speak like this to their elders)." Another asked, "Sir people are asking what is the purpose of watching Pathaan movie." He said, "Oh God these people are really deep... what is the purpose of life? What is the purpose of anything? Sorry I am not such a deep thinker."
Shah Rukh Khan will be seen next in Siddharth Anand's Pathaan with Deepika Padukone and John Abraham. He plays a spy in the film, which is set to be released on January 25. The trailer for the film will likely be launched on January 10.