Kubbra Sait recalls when Salman Khan was 5 hrs late to shoot and left the entire crew waiting: Lunch break kare?
Jan 19, 2023 08:21 PM IST
In a recent chat, actor Kubbra Sait recalled about the time she was shooting with co-star Salman Khan for the film Ready, when he arrived 5 hours late to shoot and asked for lunch break immediately.
Actor Kubbra Sait, who is mostly known for her role as Kukoo in Sacred Games, also worked in a Salman Khan film called Ready, which released in 2011. In a recent interview, the actor talked about her difficult experience in the shoot, when she spent hours on the set without food and the entire crew was waiting for Salman on set since morning. (Also read: Meera Chopra reveals why she won't do a role like Kubbra Sait's in Sacred Games: 'She got lot of work after that but...')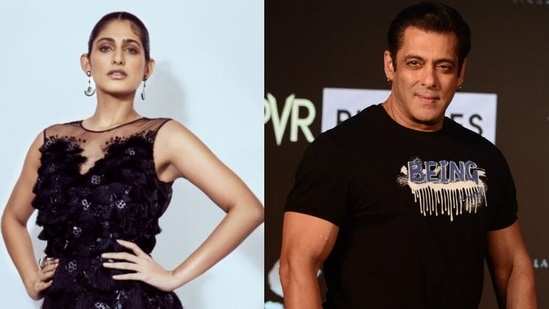 Kubbra recounted about the experience of shooting for her debut film, where she played a character of a house help. She said that when she asked for breakfast from the set, she was given an apple. "I said breakfast? They said apple, they flung an apple at my face. I asked for one more and they flung another apple at my face. They were saying we'll start the shoot at 10. That became 11, 11 became 12," she said.
Talking with journalist Faye D'Souza for her YouTube channel, Kubbra recalled how she also had to wait for long hours on the set without getting any work done. At around 2:45 pm, Salman arrived on set, almost five hours late and only then the crew took notice. "You know someone important has arrived. That important person is the hero of the film. Everyone's pulling up their pants and like let's do some work and there emerges Salman Khan. We were shooting at a golf course so it's a visual. There are these big massive life-sized windows and Salman Khan comes and flexes his back, moves his head to either side and says 'Lunch break kare?' (Let's have lunch break?)... Idhar main ek apple khaya hai subah se. Kaam bhi kar lete hain na (I had eaten just one apple since morning. Maybe we should finish some work also.) But no, we had lunch." she concluded, laughing.
Kubbra said that despite these conditions on set during shooting, she is always trying to look for positives. The actor said that working with Salman was special, as he made sure that everyone on set felt included. Kubbra was last seen in RK/RKay, which was directed by Rajat Kapoor. It features Kubbra alonside Rajat, Mallika Sherawat, Ranvir Shenoy and Manu Rishi Chadda.