'Not Karan Johar or Anurag Kashyap, I'm your daddy': Mika Singh challenges KRK, announces diss track
Published on May 30, 2021 08:38 AM IST
Mika Singh has said that Kamaal R Khan only messes with 'soft people' in Bollywood, and doesn't have the courage to mess with him.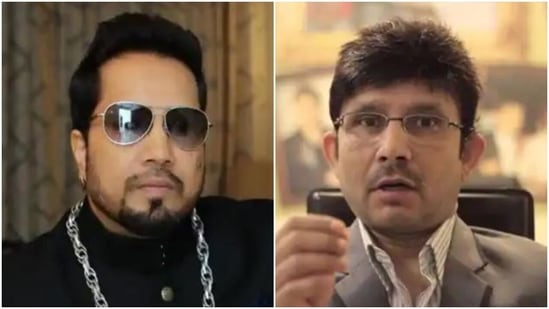 Singer Mika Singh, who jumped into self-proclaimed critic Kamaal R Khan's legal tussle with actor Salman Khan earlier this week, has said that he won't be easily pushed around. Mika sided with Salman and made statements against KRK, calling him a 'donkey' and a 'scared mouse'.
On Saturday, Mika responded to a fan's tweet in Punjabi, writing, "He only picks on the soft people in Bollywood. He won't mess with his daddy. Tell my son to unblock me please. I am not Karan Johar or Anurag Kashyap. I am his daddy."
The feud escalated on Saturday, when Mika in an interview said that Salman did the right thing by slapping KRK with a defamation lawsuit. He said that action against KRK was a long time coming, and claimed to have videos of KRK begging forgiveness from him in the past.
"Meri taraf se koi case-vase nahi hoga, seedha jhaapad hoga," he said. "KRK itna bada chuha hai, woh apni bil se bahar nahi niklega, kyuki usse pata hai jaise hi woh bahar niklega usse jhaapad padne waale hain (He is a mouse, hiding in his hole. He knows the second he comes out he'll get attacked)."
In response, KRK tweeted without naming anyone lashed out at a 'chirkut singer', whom he claimed was seeking 'publicity'. "Now a Chirkut Singer wants to jump in the matter to get publicity. But I won't give him. Kood Beta, Jitna Koodna Hai. Tujhe Toh Bhav Bilkul Nahi Doonga! Kyonki Teri Aukaat Hi Nahi Hai (Son, get excited all you want. I will not give you attention at all because you do not have stature for it)," KRK tweeted.
Mika has since said that he is going to release a diss track against KRK, titled Barking Dog.
Also read: Kamaal R Khan, being sued for defamation by Salman Khan, vows 'isko sadak par le aaoonga'
KRK is being sued for defamation by Salman. While KRK has claimed that the lawsuit is a result of his unfavourable review of Radhe: Your Most Wanted Bhai, Salman's lawyers said that it is in response to KRK's allegations of corruption and money laundering against the actor.
Personalise your news feed. Follow trending topics