Pathaan effect | Shah Rukh, Salman, Aamir, Akshay, Ajay: Who said the era of superstars is over?
Jan 29, 2023 02:35 PM IST
Is Pathaan's success a reminder to not underestimate the power of stardom? The answer, the industry feels, is a resounding yes.
'Lekin hamari jagah lega kaun?'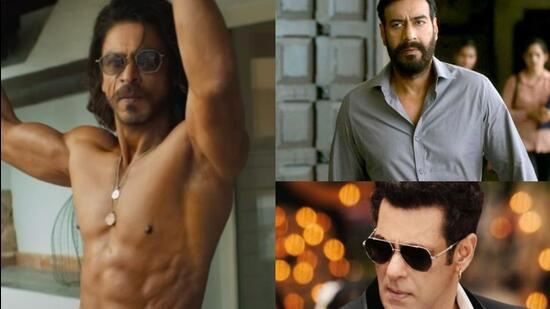 'Humein hi karna padhega bhai, bachhon pe nahi chhod sakte!'
This banter between the characters of Shah Rukh Khan and Salman Khan in the record-breaking Pathaan isn't an innocent conversation even on the surface of it. Both of them are in on the joke about a larger question- is their reign as superstars over? Is the era of stars done with, does only the content matter?
The answer lies in what Pathaan has done. Apart from breaking (and setting new) records, the major reason cited everywhere is: people thronged the theatres to witness their King of Romance, turn into an action hero. Compare this to the chatter about how his career was deemed to be over until now.
WHO IS A SUPERSTAR?
The definition of a superstar isn't just limited to box office numbers, it's to do with how much cultural impact the person will have. Filmmaker R Balki, who has also had extensive ad world experience and worked with the likes of Amitabh Bachchan, Akshay Kumar And Shah Rukh as well, says, "A person for whom you are willing to pay money to watch, it's simple. But then you see actors like Ajith, who doesn't appear in any other place, not a single advertisement or interview. You only get to watch him on screen, there's a mystique around the star."
Manoj Desai, executive director, G7 multiplex and Maratha Mandir cinema, opines, "Public ke dil mein jagah honi chahiye. Jo aam aadmi pe beet rahi hai, agar usse voh star connect kar paaye, toh log kehte hain 'arre yeh toh meri kahaani hai' Aaj ke time pe jo superstars hain voh hain Shah Rukh, Salman, Akshay aur Ajay."
STARS ENHANCE CONTENT
Of late, ever since a few films starring these biggies didn't work, people had started saying their time is over. Content became the hotword with OTT coming in. Suddenly these stars found their previous years of success being looked at as a result of lack of entertainment options for viewers.
Abhishek Pathak who co-produced and directed Devgn's recent hit Drishyam 2 says, "Content and superstars together can fly so high. Content alone will go to a certain limit obviously. Eventually, the star makes everything work. No one could have imagined Pathaan or Drishyam 2 without them (Shah Rukh and Ajay). Stars will never go away, people are there to watch them."
WHAT HAPPENS TO THE 'STARS ARE OVER' DEBATE?
"Superstars of the 90s can never be written off. Unfortunately, people are quick to write their obituaries after a film flops. Flops are a part of every star's life. Ditto for SRK. He went through rough weather with many films flopping, and look how he bounced back. I can say that his name alone can sell tickets," says trade analyst Taran Adarsh. Similarly, Aamir Khan's last film, Laal Singh Chaddha didn't work, but his previous hits such as Dangal and 3 Idiots are proof of his fan base.
Balki, however believes that Shah Rukh's example is an exception. "A star like SRK is very rare. When he goes away for four years, people want to see him. I don't know the broad classification of superstars, this is the case of one person here," says the 57-year-old.
CAN TODAY'S GENERATION REPLICATE THIS?
Adarsh says there are very few who have it in them, such as Ranbir Kapoor, but it will take them time. Trade expert Atul Mohan points out to how some actors start calling themselves 'superstar' after one or two hits. "Unke PR agencies kaam pe lag jaate hain. They don't understand ek film chalne se nahi hota, you have to be consistent. Aaj bhi, in 2023, if you see closely, there is still anticipation around SRK, Salman, Ajay's films," he says.
"Today, an actor's team tells them to put pictures online when they work out, eat, what not. People think aise hi dekhne ko mil raha ho, movie kya jaake dekhna," he feels.