Sameera Reddy recalls eating one idli a day to make sure she did not gain weight
Feb 01, 2023 05:41 PM IST
Sameera Reddy has spoken about the time when she would starve herself by eating just an idli a day. She also talked about people suggesting she get a breast augmentation surgery.
Actor Sameera Reddy has recalled eating one idli a day, during the early days of her career, to make sure she didn't gain weight. In a new interview, Sameera also revealed that she was asked to 'get a boob job done'. The actor also spoke about 'slipping into a very bad, dark space' after childbirth. (Also Read | Sameera Reddy shares pics from when she was going through postpartum stress)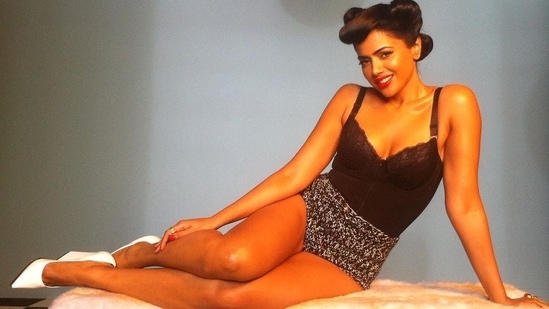 Sameera married Akshai Varde in January 2014. They have a son, Hans Varde, and a daughter, Nyra Varde. Sameera made her Bollywood debut with Maine Dil Tujhko Diya opposite Sohail Khan in 2002. Directed by Sohail, the film also featured Sanjay Dutt, Kabir Bedi, and Dalip Tahil.
In an interview with Mid-day, Sameera said that she would 'starve herself and have one idli a day and ensured she did not gain weight'. She said, "I think there was a crazy phase about 10 years ago where everybody was getting plastic surgery, boob job, change nose or bone structure. I had to always pad my chest and was told to get a boob job done. Many times, I would think, 'Should I? Is this the norm?' because it was so openly spoken about and as an actor I questioned if I had to do it. But I didn't and I am so grateful to God I didn't because today I wouldn't have been comfortable about it."
She also talked about her journey of accepting herself, "I think it began when I didn't have anybody who was guiding me though one of my major breakdowns, which happened postpartum. I remember slipping into a very bad, dark space about my body, my career, about being perceived as successful or how fast I could bounce back after motherhood and I cracked. I actually hid inside the house and I didn't talk to anybody."
Sameera is best known for starring in films such as Darna Mana Hai (2003), Musafir (2004), Jai Chiranjeeva (2005), Taxi Number 9211 (2006), Ashok (2006), Race (2008), Varanam Aayiram (2008), De Dana Dan (2009), Aakrosh (2010), Vettai (2012) and Tezz (2012).
Fans saw her last in Varadhanayaka (2013), a Kannada-language film by Ayyappa P Sharma. It also stars Kiccha Sudeep, Chiranjeevi Sarja, and Nikesha Patel.