Sana Khan and husband Anas Saiyad shares pics, call 'this umrah very special'; fans ask if they will become parents soon
Feb 05, 2023 10:09 PM IST
Sana Khan and her husband Anas Saiyad shared pics and called 'this umrah very special'. Their post left fans wondering if they will become parents.
Former actor Sana Khan and her husband Anas Saiyad have shared new pictures as the couple travelled to perform Umrah. Taking to Instagram on Sunday, the duo shared a post revealing that 'this umrah is very very special'. Moments after they shared the post, fans started speculating that they are set to embrace parenthood. (Also Read | Sana Khan reveals why she chose to wear hijab after depression)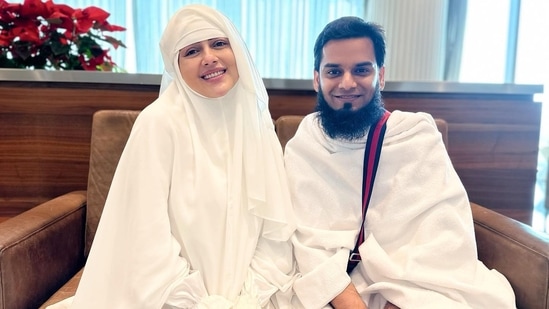 In the first photo, the couple sat on a sofa in white outfits as they smiled for the camera. In the second picture, they were seen inside an aircraft. Seating next to each other, they smiled while posing for the lens. They captioned the post, "Alhamdullilah soooo Happy. This umrah is very very special for some reason which In Sha Allah I will share soon with all. May Allah make it easy."
Reacting to the post, a fan commented, "May Allah bless you with a healthy child. MashAllah." A comment read, "Alhamdulillah i think your both are going to be parents soon, in shaa Allah." "You're gonna be mother ??? Is that why this umrah is special?" a person wrote. "You are expecting ma shaa Allah ….i know it since 1month. Congratulations," said another fan.
Last year, Sana and Anas visited Saudi Arabia for her first Hajj with her husband. On Instagram, Sana posed with Anas after they landed in Mecca. A part of her caption read, "Can't wait to experience the most beautiful journey of my life of hajj with my @anas_saiyad20." She also added the hashtags--Sana Khan, Anas Saiyad, Al khalid, Saudi Arabia, Hajj, 2022 and Alhamdulillah.
Sana had posted a video before flying to Mecca with Anas. She had said, "This is my first Hajj and you can see my eyes are swollen. I'm very very excited of course as this was my dream that God has fulfilled today... It's amazing." A part of her caption read, "Allah ka Ehsan (God's grace). I don't have words to express my feelings...Can't wait to land there."
Sana tied the knot with Anas in an intimate ceremony on November 20, 2020. They got married just a month after she announced her decision to quit acting. Celebrating their first wedding anniversary in 2021, Sana shared a picture of the couple along with a note on Instagram. Sana featured in several films such as Wajah Tum Ho and Jai Ho. She was also a contestant on Khatron Ke Khiladi 6. She also participated in reality shows including Bigg Boss 6 where she was a finalist.