Sonam Kapoor's mom Sunita Kapoor shares sweet moment with grandson Vayu Kapoor Ahuja in unseen video: 'Haye mera baccha'
Jan 04, 2023 11:12 AM IST
Anand Ahuja took to Instagram and posted throwback pictures and videos with Sonam Kapoor, Anil Kapoor, Sunita Kapoor, Harsh Varrdhan Kapoor. He shared an unseen video of mother-in-law Sunita Kapoor doting on his son Vayu Kapoor Ahuja. See the post here.
On Wednesday, businessman Anand Ahuja shared pictures and videos of actor-wife Sonam Kapoor and son Vayu Kapoor Ahuja as well as father-in-law Anil Kapoor, mother-in-law Sunita Kapoor, brother-in-law Harsh Varrdhan Kapoor and brother Anant Ahuja. He also posted an unseen video of Sunita as she adored grandchild Vayu. Sunita's expression after seeing Vayu was hard to miss in the short clip. Anand also shared a couple of happy pictures with Sonam, Anil, and Anant from their recent new year's vacation. (Also read: Anil Kapoor, Sunita Kapoor announced arrival of their first grandchild Vayu Kapoor Ahuja with this special gift. See pic)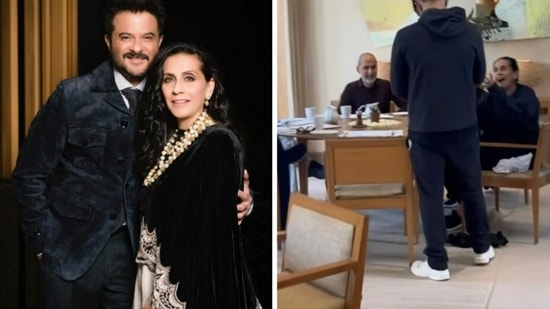 In the post, Anand shared a happy picture with Sonam and Harsh Varrdhan. All of them were colour-coordinated and opted for black. In another picture, he shared a group picture featuring Sonam and their friends. He also shared a picture of Sonam from her her yoga sessions with a trainer.
Anand treated fans with the sweetest video of Sunita Kapoor and Vayu. In the clip, Anand held his son in his arms and brought him to Sunita, who was sitting inside a restaurant with Anil Kapoor and Anupam Kher, among others. Sunita looked surprised to see Vayu, and said before she held him, "Hi Vayu, haaye mera baccha (my child)."
In another picture Anand posted, Anil looked at his son Harsh Varrdhan, and smiled while posing for the camera. Anand also posted a video of himself while swimming in the pool.
Sharing the pictures and videos on Instagram, Anand wrote, "The past 10 days (handfolded and evil eye emojis)… Grateful and wish everyone a happy and fulfilling New Year." He used 'everyday phenomenal' as the hashtag in the caption. Sunita dropped heart emojis on the post. Reacting to the post, one of Anand and Sonam's fans wrote, "Vacation with family is always a blessing (red heart and hug emojis)." Another fan commented, "Beautiful pictures (smiling face with red heart eyes emojis)." A fan also wrote, "Lovely brother! Happy 2023!"
Sonam and Anand Ahuja welcomed their first child together, son Vayu Kapoor Ahuja, on August 20, 2022. The couple had dated for a few years before marrying in May 2018. Sonam will be next seen in the crime thriller Blind, which is an official Hindi remake of a 2011 Korean crime-thriller by the same name. The official release date of the film is yet to be announced.