Sushant Singh Rajput's sister Priyanka Singh recalls fond memories of him from her wedding day: 'Our Trident is broken'
Jan 20, 2023 08:08 PM IST
Ahead of Sushant Singh Rajput's birth anniversary, the late actor's sister Priyanka Singh shared an old photograph. It has left fans emotional.
Actor Sushant Singh Rajput's sister, Priyanka Singh, took to her Twitter handle and shared a throwback picture from her wedding day. On the occasion of her wedding anniversary, she fondly revisited her memories with the late actor. Her post arrived two days prior to Sushant's birth anniversary. Also read: Sushant Singh Rajput's pet dog Fudge dies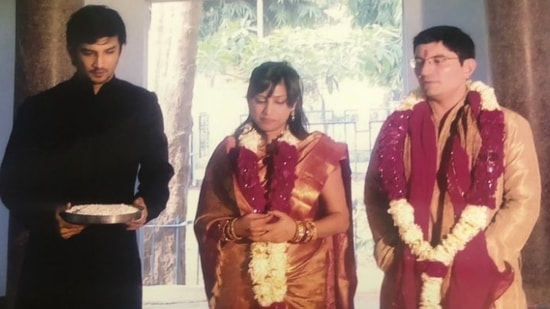 The photo featured Sushant Singh Rajput in an all-black kurta-pyjama look during a ritual at the wedding ceremony. Next to him stood his sister Priyanka and her husband. Sharing the photo, Priyanka wrote, "This date 11 years back you graced Sid's n mine Union. Always beside us… still feel You that much around even today, each day, my Eternal Sunshine Sushant but our Trident as you called us, is broken!"
Soon after she shared the post, fans extended support to her. One of them commented, "Stay Blessed always. Sushant bhai will always be around you and everyone who loves him." "He is with you always di in your heart, through your thoughts, by footsteps. Don't leave dat smile, d dimple on your cheeks is our Sushant loads of love n strength." Someone also said, "Thank you for sharing another gem of our Eternal Sunshine Sushant. He is forever with us like a guiding star. Many kids have chosen him to be their role model and that itself should have far fetching impact on society."
Sushant Singh Rajput was found dead at his Bandra residence on June 14, 2020. His death is being investigated by the Central Bureau of Investigation (CBI), which earlier ruled out possibilities of murder. While his death has been ruled as a suicide, new claims of the actor being murdered emerged last month. However, no closure report in the death case has been filed by the agency so far.
Besides the CBI investigation, the Enforcement Directorate and the Narcotics Control Bureau also looked into the financial and drugs-related angles in the matter. His girlfriend and actor Rhea Chakraborty was booked for abetment to suicide. She was later granted bail after 28 days in jail.
Recently, Sushant's pet dog, Fudge, a black Labrador died. His sister Priyanka Singh updated fans, "So long Fudge! You joined your friend's Heavenly territory… will follow soon! Till then… so heart broken."