Sushant Singh Rajput's pet dog Fudge dies, fans say 'reality of missing his love that he could take no more'
Jan 17, 2023 12:53 PM IST
Sushant Singh Rajput's pet dog Fudge is dead, the actor's sister Priyanka Singh informed on Twitter early Tuesday.
Sushant Singh Rajput's pet dog Fudge has died. His sister Priyanka Singh shared the news on Twitter in the wee hours of Tuesday. She shared a picture of herself with the black Labrador along with a lovely picture of Sushant and Fudge. Fans of the late actor expressed grief on the death of the pet dog but also said that it has now joined Sushant in "heaven". Also read: Sushant Singh Rajput's Mumbai flat finally finds new tenant after nearly 3 years, to be rented out at ₹5 lakh per month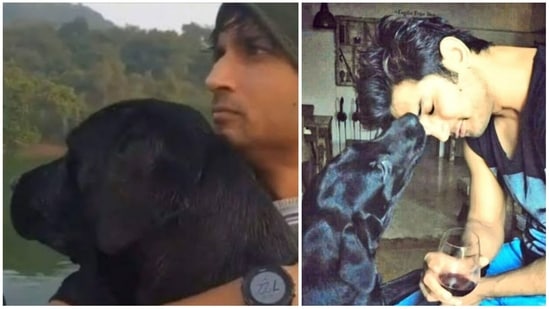 Priyanka Singh tweeted at around 1 am on Tuesday, "So long Fudge! You joined your friend's Heavenly territory… will follow soon! Till then… so heart broken." Several of her followers expressed their condolences on the death of the animal.
One of Sushant's fanpages reacted to her tweet, "Di...Plz stay strong... don't understand what I will say...very heart broken news is this...I can't take...but one more joyous news is that he went to live happily with his friend forever. Om Shanti." A fan commented, "I hope this bond will continue in heaven too." Another said, "R.I.P. FUDGE Nothing to say ..this is very heart breaking news to us all...but he is a true friend of Sushant and went to his friend to live happily with him forever and ever.…Sushant Lived InDMoment." One more comment read: "Sad news. He moved on a better place. Take care Soo Heartbreaking Fudge, now you are in Heaven with our Sushant Om Shanti." "So heart breaking to hear this but this is reality of missing his love that he could take no more! So so sorry to hear," wrote a fan.
Sushant Singh Rajput was found dead at his Bandra residence on June 14, 2020. His postmortem report stated the cause of death was asphyxia. The postmortem was conducted at Mumbai's Cooper Hospital. The Central Bureau of Investigation was brought to investigate the actor's death from various angles. His girlfriend and actor Rhea Chakraborty was booked for abetment to suicide and was in jail for 28 days. The Narcotics Control Bureau also investigated a drugs angle in the case.