Swara Bhaskar gets 'desi style' nose piercing on Mrs Falani sets, says 'enjoy my suffering you all'. Watch
Jan 12, 2023 01:05 PM IST
Swara Bhasker got her nose pierced, in 'desi style', on the sets of her upcoming film, Mrs Falani. She also shared the video of her 'pain and suffering' on Instagram.
Swara Bhasker has shared the pain and struggles that an artist goes through while working on a film. In her latest Instagram post, she got her nose pierced on camera for fans to see the pain that she bears for convincing performances in her films. She got her nose pierced in 'desi style' and shared a video of the same. (Also read: Swara Bhasker questions Pragya Thakur's remarks on Pathaan)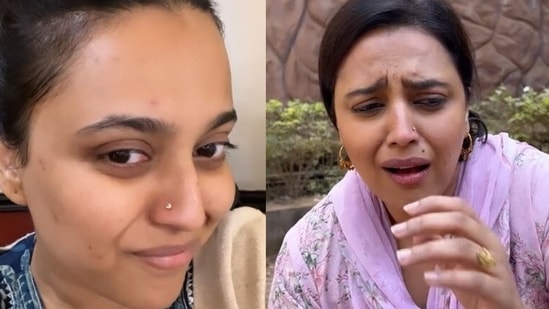 In the video, Swara can be seen sitting on a chair in an open area. The clip opens as she says, "Just to prove ki hum shoot ke dauran mehnat bhi karte hain aur kasht aur dard bhi jhelte hain (that we work hard, and also bear a lot of pain during shoots)." A man then walks up to her and the actor tells him that she had her nose pierced but the piercing got closed. She also asks if he can pierce her nose on the opposite side.The man then proceeds to pierce her nose as Swara gets visibly uncomfortable and holds the back of her chair due to the pain of the piercing. After a few visuals showing her pain and discomfort, the video moves on to later when Swara could happily show-off her pierced nose with a smile.
She shared the video and wrote, "Nose Piercing Desi Style!!!!On set of #MrsFalani #DayOne ; I realise I should get my nose pierced for these roles! Here's a peak into this rather torturous but swift procedure! Thanks to the local jeweller who came and did it. Enjoy my suffering ya'll!"
Actor Gauahar Khan was among the first ones to comment on the post. She dropped a few shocked-face emojis and wrote, "Oh god." Many of her fans also flooded the comment section with their praise for her 'bravery', and some advice as well.
One of them wrote, "Hey looks lovely. But please don't remove the nose pin for some months or the hole will get blocked again. I suffered so I'm telling you as my first one got blocked and had to redo it." Another one commented, "Mam you could have opted for easy way....! But it proves you are a Brave girl and obviously most beautiful n Gorgeous Girl Swara."