Twinkle Khanna shares her BellBottom review, Akshay Kumar says 'It feels like a walk in the park when she approves'
Akshay Kumar's BellBottom releases this week. His wife, actor-turned-author Twinkle Khanna has said that the film is a 'must watch.'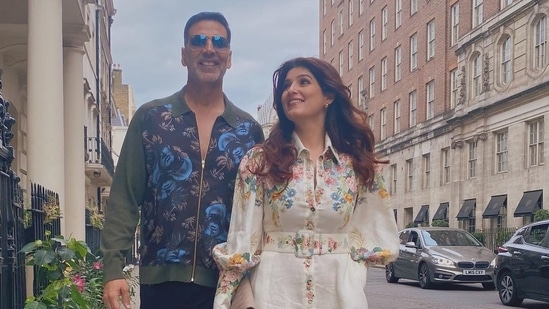 Published on Aug 19, 2021 09:03 AM IST
Twinkle Khanna has said that Akshay Kumar's BellBottom is a 'must watch' film. The actor-turned-author took to Instagram and shared a picture of the couple heading for the premiere in London and shared her take.
"Looks like a walk in the park but we are actually heading to something even better, the screening of Mr K's fabulous movie-Bellbottom! #mustwatch," she captioned the picture. Akshay Kumar took to the comments section to express his happiness of Twinkle's approval of the film.
"It feels like a walk in the park when she approves #BellBottom is a #mustwatch, she said it, not me (tongue out emoji)," he commented. BellBottom has received positive reviews from critics.
+
Noting the response, Ajay Devgn reached out to Akshay on Twitter and said, "Dear Akki, I've been hearing good reviews of Bell Bottom. Congratulations Also, your leap of faith in making it a theatrical release is praiseworthy. With you in this."
BellBottom is one of the first big-scale Bollywood films to release in theatres following the severe second wave of the Covid-19 pandemic. As reported by Indianexpress.com, Akshay opened up about the box office pressure during a recent group interview with the press.
"The pressure is that Maharashtra is still closed and 30 per cent of the money comes from Maharashtra. And because only 50 per cent occupancy is allowed so half of the rest of the 70 per cent share is also gone. But we have to take a risk. I am keeping my fingers crossed," he had said.
Also read: Sonam Kapoor, Arjun Kapoor, Khushi Kapoor and Rhea Kapoor stun at Antara Marwah's baby shower, see inside pics
Apart from Akshay, BellBottom also stars Vaani Kapoor, Lara Dutta and Huma Qureshi. Set in the 1980s, the film revolves around a RAW agent who is tasked with the role of rescuing hostages from a hijacked Indian plane. While Lara essays the role of former Prime Minister Indira Gandhi, who was in power at that time, Vaani plays Akshay's wife in the film.
Close Story