Vivek Agnihotri makes a remark at Rahul Gandhi for wearing 'warm jackets indoors', having '5 course meal': 'Easy drama'
Updated on Jan 23, 2023 04:44 PM IST
Filmmaker Vivek Agnihotri has made a remark over Congress leader Rahul Gandhi wearing 'warm jackets indoors' and having '5 course meal'. Here's what he said.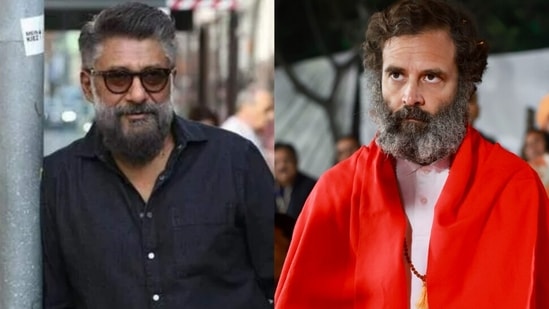 Filmmaker Vivek Agnihotri has taunted Congress leader Rahul Gandhi over his choice of clothes and meals indoors and outdoors. Taking to Twitter on Monday, Vivek responded to a tweet praising Rahul Gandhi. In a recent interview, Rahul was seen wearing a half black jacket over his white T-shirt. He sat at a table laden with several dishes. (Also Read | Vivek Agnihotri jokes as Rahul Gandhi talks about 'flying' during Bharat Jodo Yatra, shares video: 'My Sunday is made')
Vivek said, "I like the ease with which he wears warm jackets indoors and goes without jacket outdoors. Also, ease with which he drinks chai outdoors and 5 course meal indoors. Easy drama. Easy followers. Good one."
The tweet that he shared read, "I love the ease with which he is talking to the interviewer. No drama, no sensation, no unachievable projections, no put-ons, no exaggeration. We hardly see politicians talking as ordinary people. Good one. I would like to see more politicians as just ordinary mortals."
The Twitter user had shared a clip of Rahul talking with Curlytales during his Bharat Jodo Yatra. The original tweet by @bharatjodo said, "A future vision for India which 1. Transforms the education system, 2. Supports the production system, 3. Protects the people & enhances their potential is what @RahulGandhi has in mind. #BharatJodoYatra."
This is not the first time that Vivek spoke about Rahul. Recently he shared a video of Rahul talking about being a pilot and knowing how to fly an aircraft. Sharing a video from Rahul's recent interview on Twitter, Vivek had written, "My Sunday is made. I am flying already. Are you?"
Recently, Vivek announced his next film, The Vaccine War, which is all set to hit the theatres on Independence Day this year. He began shooting for the film in December last year. Vivek had announced The Vaccine War in November 2022 and also unveiled the official poster of the film.
The movie is scheduled to release in 11 languages--Hindi, English, Gujarati, Punjabi, Bhojpuri, Bengali, Marathi, Telugu, Tamil, Kannada, Urdu and Assamese. The project will be produced by Pallavi Joshi's I Am Buddha Productions and Abhishek Agarwal via his banner Abhishek Agarwal Arts. The film stars Anupam Kher, Nana Patekar and Sapthami Gowda.
Speaking about the film, Vivek had earlier said, "When The Kashmir Files was postponed during COVID lockdown, I started researching on it. Then we started researching with the scientists of ICMR & NIV who made our own vaccine possible. Their story of struggle and sacrifice was overwhelming and while researching we understood how these scientists fought a war waged against India not just by foreign agencies but even our own people."