Vivek Agnihotri jokes as Rahul Gandhi talks about 'flying' during Bharat Jodo Yatra, shares video: 'My Sunday is made'
Jan 22, 2023 12:25 PM IST
Vivek Agnihotri reacted to a video featuring Rahul Gandhi's comments on flying. He joked about the politician's statement about the mindset of a pilot during an interview on his Bharat Jodo Yatra.
Vivek Agnihotri took to Twitter to react to a clip from Rahul Gandhi's new interview. The filmmaker joked that his 'Sunday was made' after hearing the politician's statement about 'flying' and his mindset of a pilot, while he was on his Bharat Jodo Yatra. Vivek seemed to hint that the Congress leader had no idea of what he was saying. The comments on the filmmaker's tweet indicated that many agreed with him. (Also read: Vivek Agnihotri reacts to Anurag Kashyap's comment on PM Modi's advice to BJP workers on films: 'Audience is 'mob' now?')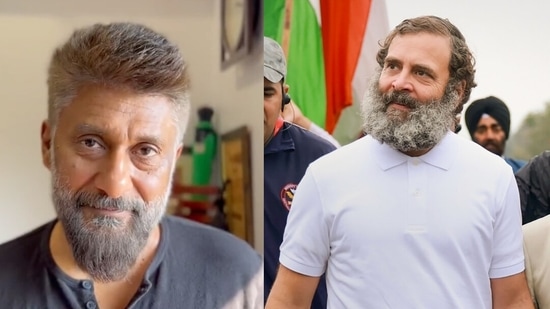 Sharing a clip from Rahul Gandhi's recent interview on Twitter, Vivek wrote, "My Sunday is made. I am flying already. Are you?" The filmmaker reacted to Rahul's comments about flying and joked about his explanation.
The video was from an interview with Siddharth Aalambayan, where he asked Rahul about being a pilot. Siddharth confessed that he wanted to be a pilot, and then Rahul explained that he learnt flying from his father, late Prime Minister Rajiv Gandhi. He shared, "Flying is partially about flying an aeroplane. But it's much more about an approach and an attitude."Rahul also added, "My father told me one line. He said, 'Always fly the plane, never let the plane fly you.'" He spoke seeing things with a larger perspective as a result of his training as a pilot.
Some of the comments on Vivek's tweet shared the filmmaker's views. One Twitter user responded to Rahul's statement that the pilot had to be ahead of the plane, writing, "If this is what pilots do I am scared! Next time I take a flight I would like to first ensure that the Pilot is firmly seated in the cockpit and is not ahead of the plane."
Another user shared, "Are you flying the plane or is the plane flying you….make sure please (laughing face with tears emojis)." Yet another joked, "I am flying on Cloud 9 (wink face emoji)." There were also a few Rahul defenders. One user stated, "I can understand that it is difficult to understand simple English and logic when u have a mindset of hating someone."
Rahul is currently walking through Jammu and Kashmir on his Bharat Jodo Yatra, which began on September 7, 2022. Several Indian celebrities like Kamal Haasan, Amol Palekar, Pooja Bhatt, and Swara Bhasker have walked alongside the Congress leader on the march across the country to reportedly raise awareness on the country's main political issues.

Vivek is filming his next feature The Vaccine War starring Anupam Kher, Nana Patekar, Pallavi Joshi and Sapthami Gowda. The filmmaker's wife Pallavi recently had an accident on set where a car ran over her foot.