Ben Affleck takes a nap on honeymoon with Jennifer Lopez, becomes a meme: 'He have to worry about being Batman anymore'
Published on Jul 25, 2022 08:42 AM IST
A picture of Ben Affleck catching on his sleep during his honeymoon with wife Jennifer Lopez has appeared online and fans are reacting to it.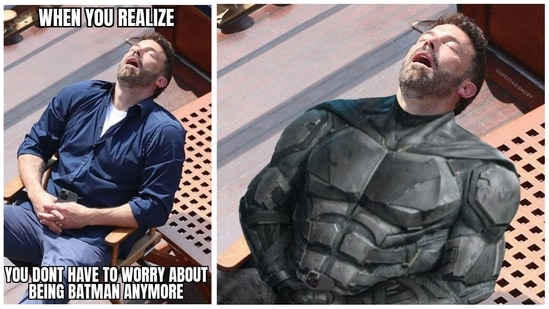 Ben Affleck is currently on a honeymoon with wife Jennifer Lopez, after the two tied the knot this month. Amid several pictures of them landing on the internet from their Paris vacation, a picture of Ben dozing off on a yacht has also surfaced online. And fans of the 'Batman' are reacting to it on social media. Also read: Jennifer Lopez marks birthday with nude photoshoot
The picture from a yacht shows Ben Affleck in a blue shirt and denims, sleeping on a chair with the sun shining bright on him. Another shot shows him sitting all alone on a deck of the yacht, catching on his sleep.
Reacting to it, a fan wrote on Twitter, "I should be spending every summer weekend on a boat sleeping like Ben Affleck." Another said, "Ben Affleck really endured years of memes and spilled Dunkin' Donuts to come out the other side passed out on a boat married to Jennifer Lopez. Incredible." A curious fan even asked, "How does a person fall asleep with the sun beaming in their face?" A meme went with the caption, "When you realize you don't have to worry about being a batman anymore." Another meme said, "Don't worry, Jennifer Lopez!... the world still needs Batman."
Some believed the couple themselves called the media to click their pictures during their honeymoon. A Twitter user wrote, "What's the big deal about him taking a nap? He's human like the rest of us!! Waste of $$ to pay a photographer for this picture. Waste." A furious fan also said about the paparazzi, "Can you leave Ben and Jen the hell alone? The hounding media contributed hugely to the end of their first engagement. Give these people peace." One more fan wrote, "When you're Ben Affleck or anyone married to a person who actually loves you, you're not afraid to have your picture taken while you're napping because it won't be used for some against you."
Last week, Jennifer, 52, revealed in her 'On the JLo' newsletter that she and Ben, 49, tied the knot at A Little White Chapel in Las Vegas. Their kids from their respective former partners were also present at the wedding.
Ben Affleck will be seen as Batman for one last time in The Flash, slated to release next year. The actor has confirmed in his interviews that he won't be playing the superhero again.
Personalise your news feed. Follow trending topics