Michael Bay charged with killing a pigeon in Italy during 6 Underground denies claims: 'No animal involved...'
Jan 13, 2023 02:00 PM IST
Michael Bay has been charged by Italian authorities for killing a pigeon during a shot on the sets of the film 6 Underground (2019) in Rome. The filmmaker has denied the charges, stating no animal was injured or harmed during production of the action film in 2018.
Michael Bay has been charged with the killing of a pigeon in Italy for an incident on the sets of his 2019 Netflix film 6 Underground starring Ryan Reynolds. The Italian authorities stated that a homing pigeon was killed during production in Rome in 2018. The American filmmaker has denied the charges against him and shared that he has tried to clear the case with the authorities over the years, but nothing has come of it. (Also read: 6 Underground movie review: Michael Bay destroys Ryan Reynolds' goodwill with one of the worst Netflix originals ever)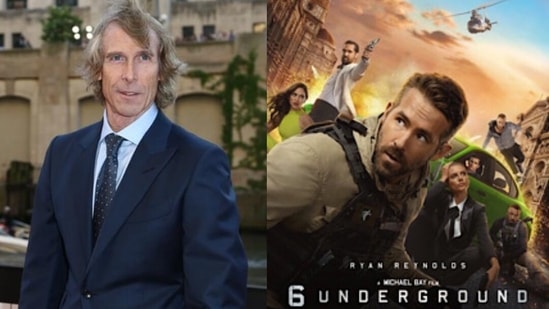 The incident reportedly took place during the middle of a take in Rome when a homing pigeon was killed by a dolly. An unknown person, who witnessed the accident, took a photograph and sent the report to the Italian authorities. The country has a law that makes it illegal to hurt, kill or catch any wild birds. Therefore, pigeons are a protected species in Italy as well as the European Union (EU) where it's protected under the Birds Directive.
According to an exclusive report in The Wrap, Michael dismissed the charges against him. He said in a statement, "I am a well-known animal lover and major animal activist. No animal involved in the production was injured or harmed. Or on any other production I've worked on in the past 30 years."
He added, "We have clear video evidence, a multitude of witnesses, and safety officers that exonerates us from these claims. And disproves their one paparazzi photo — which gives a false story." Michael also shared that there was an ongoing court case about it so he could not divulge more, but he was confident that he would have his 'day in court'.
The filmmaker also shared that he and his lawyers had tried to clear the matter with the authorities during this time. But they wanted him to settle and pay a small fine which he refused, as it required him to plead guilty to harming an animal.
6 Underground began filming in July 2018 in Rome, Florence, Sienna and Taranto. The crew wrapped up in December 2018. The action film features Ryan as a billionaire known only as One who sets up a vigilante squad with five others who have faked their deaths to go up against the bad guys. The Netflix feature also starred Corey Hawkins, Manuel Garcia-Rulfo, Dave Franco, Adria Arjona, Ben Hardy, Lior Raz, and Mélanie Laurent.
Michael's last film Ambulance was set and shot in Los Angeles, California. The heist thriller starred Jake Gyllenhaal and Yahya Abdul-Mateen II as adopted brothers who take over an ambulance after a robbery and take the paramedics, played by Eiza González and Jackson White, hostage.