Spider-Man: No Way Home deleted scene shows Spidey's awkward elevator ride with villains. Watch
Published on Mar 11, 2022 03:55 PM IST
A deleted scene from last year's superhit Spider-Man: No Way Home has surfaced online. It shows the film's lead Tom Holland sharing an elevator ride with the villains Electro, Green Goblin, Doc Ock, and Sandman.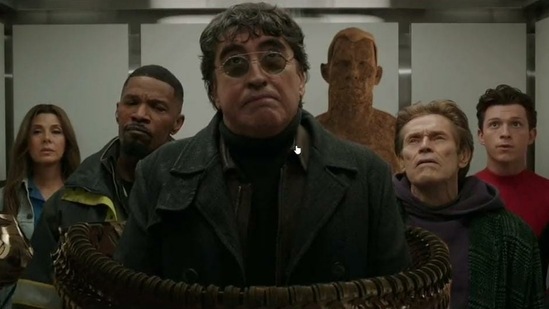 Spider-Man: No Way Home marked the return of the two previous live-action Spider-men Tobey Maguire and Andrew Garfield as they teamed up with Tom Holland. But the film also saw several Spider-Man villains from previous film series returning. The return and interactions of these characters gave fans some iconic pop culture moments. Now, a deleted scene from the film that has surfaced online, shows Tom's Spider-Man in an awkward situation with the baddies. (Also read: Spider-Man: Across the Spider-Verse writers hint Tom, Tobey, Andrew may be in it)
The short five-second clip, shared on Twitter by fan accounts, gives the viewers a brief glimpse at Tom taking an awkward elevator ride with Aunt May (Marisa Tomei) as well as Spidey villains Doc Ock (Alfred Molina), Green Goblin (Willem Dafoe), Electro (Jamie Foxx), and Sandman (Thomas Haden Church). In the scene, the occupants glance nervously and awkwardly around as the elevator takes them up to a new hideout.
The scene preceded the part of the film where Spider-Man and May take the villains to a safe house. But it was eventually cut from the theatrical version. Several other such deleted scenes are part of the No Way Home digital and home release, coming out later this month.
The highlight of the film - the three Spider-Men teaming up - may be repeated soon. Sony's upcoming animated feature Spider-Man: Across the Spider-Verse also deals with the multiverse and multiple Spider-Men. The film's writers and producers recently hinted that Tom, Tobey, and Andrew could be in it. "All things are possible in the multiverse," writer Chris Miller told Variety.
Spider-Man: No Way Home was Tom Holland's third solo outing as the character and was part of Marvel Cinematic Universe's (MCU) Phase 4. The film has broken box office records globally. It has grossed over $1.8 billion dollars worldwide, emerging as the most successful pandemic-era film.