BTS' Jimin hypes up J-Hope ahead of his Lollapalooza show in new clip, says he became rapper's fan: 'You killed it'
Nov 27, 2022 05:07 PM IST
In a new clip, Jimin encouraged J-Hope ahead of his Lollapalooza show. He later called himself a fan of J-Hope, in a new clip. Watch here.
BTS member Jimin encouraged J-Hope ahead of his Lollapalooza show that was held in Chicago in July. In a new clip shared by BangtanTV on its YouTube channel, after the show, Jimin complimented J-Hope and revealed that he became a fan of the rapper. The over 20-minute-long video chronicled J-Hope's practices at the Grant Park venue followed by his performance which was a massive hit with the audience. (Also Read | BTS: 'Legendary artist' J-Hope makes history at Lollapalooza. Watch)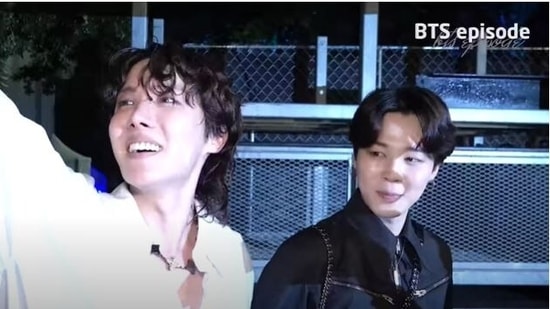 After Jimin met J-Hope, he spoke to the camera in the US, "I bet he's super nervous. I think I'll be nervous too. He will do fine. J-Hope is the most professional one out of us. He will do great. I have no doubts." As the duo sat together ahead of J-Hope's performance, Jimin said, "Don't worry, just have fun. We will have fun as well." The duo then welcomed singer Becky G with claps and hoots. She asked J-Hope, "Are you so excited?" J-Hope replied, "My heart is super pumping."
After the concert, a tired J-Hope exited the stage and said, "We did it, we did it. Can't believe it. It's all thanks to everyone here." he also posed with his team and hugged them. He also posed with Becky G. Jimin enjoyed the show from the balcony and later complimented J-Hope. As the rapper said, "Compliment from the member is the best", Jimin said, "I was so...I wasn't mad... You killed it." J-Hope hugged him and said, "It's because you are here. You being here helped out." Jimin replied, ''I was a fan today. My voice is gone. I sang along so hard."
J-Hope performed at the Lollapalooza 2022 creating history as the first South Korean artist to headline a major US festival. J-Hope performed songs from his solo album Jack In The Box. He and Becky G had their first-ever live performance of their song Chicken Noodle Soup.
J-Hope performed to MORE, Pandora's Box, Intro, Base Line, BTS Cypher Pt.1, P.O.P, STOP, Blue Side, Hangsang, Arson, Music Box: Reflection, Daydream, Safety Zone, Hope World, Outro: Ego, Future and Trivia: Just Dance among others. He also danced to BTS' song Dynamite (Tropical Remix) with different choreography.