BTS: Jungkook says ARMY gave them energy 'to dance, sing and breathe', Jimin calls fans 'my love' in new message
Published on Jun 06, 2022 03:52 PM IST
BTS: RM, Jin, Suga, J-Hope, Jimin, V and Jungkook posted audio messages for their fans. Here's what they said.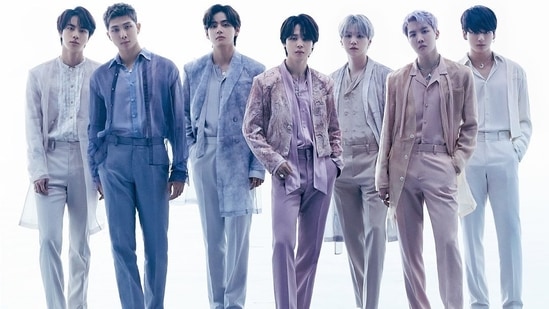 BTS members RM, Jin, Suga, J-Hope, Jimin, V and Jungkook shared new messages for their fandom, ARMY. Spotify shared a new episode, titled 'Message to ARMY' where the members in the audio messages addressed fans as 'my love' and also said that they give the group energy 'to dance, sing and breathe'. (Also Read | Charlie Puth accidentally confirms collab with BTS, ARMY says: 'He pulled a Namjoon right there')
In his message to the fans, RM said, "ARMY, thank you guys so much for always being with us. We'll be there for you as well. Love, RM." Jin said, "Hello ARMY, this is Jin. Know that we're always grateful, it's a dream to have you guys. ARMY all the way." Suga in his message said, "ARMY, we are here because of you guys. It's been a wonderful ride. And we will continue to make sure our journey never ends. Love, Suga."
"J-Hope right here. The amount of love you have given us can't be described in words. We are very lucky to have you guys and I hope you ARMY know that. I purple you," the rapper said in his message. Jimin said, "My love ARMY, it's an honour to have you guys wherever you are, know that we are there as well. Thank you, this is Jimin sending love to our ARMY."
BTS member V said, "ARMY, hello, it's V. Just wanted to drop by and say 'borahae'. It's been a lovely journey because you guys have been there with us all along. We love you." Borahae is Korean for I Purple You which means I'll love you till the end of days. Jungkook in his message said, "It's JK, sending love to our ARMY for giving us the energy we need to dance, sing and breathe. Forever and always we'll love you."
BTS members have been sharing messages for fans and speaking about their previous albums on This is BTS for Spotify. Talking about their tour, RM had said, "After ON, our goal was to go on a tour for a year travelling several countries in other continents." They said that they were planning to organise concerts in Mumbai and also in Barcelona, South America, and Australia among other countries.
Currently, BTS is awaiting the release of their upcoming anthology album Proof on June 10. The new album will consist of three new songs--Yet To Come, Run BTS, and Born Singer. It will also have old songs such as Seesaw, Boy in Luv, Fake Love, Run, Jamais Vu, I Need You, N.O, IDOL, Fire, Danger, Moon, Persona, Dynamite, Life Goes On and Butter.
Personalise your news feed. Follow trending topics