BTS' Suga recalls 'scary' rumours of disbandment: 'Why is the world telling us to take a permanent break?'
Jan 20, 2023 08:08 AM IST
BTS member Suga in the new episode of his show was joined by Big Bang's Taeyang. He talked about the time when people thought BTS was disbanding.
BTS member Suga welcomed Big Bang's Taeyang in the new episode of his drinking show, Suchwita. During the conversation, Suga talked about his fellow group member Park Jimin who recently collaborated with Taeyang in their music video, Vibe. He also revealed how he felt when rumours of BTS' disbandment spread after they announced their break. Also read: BTS' Jimin and J-Hope flash heart signs at fans as they head for Paris Fashion Week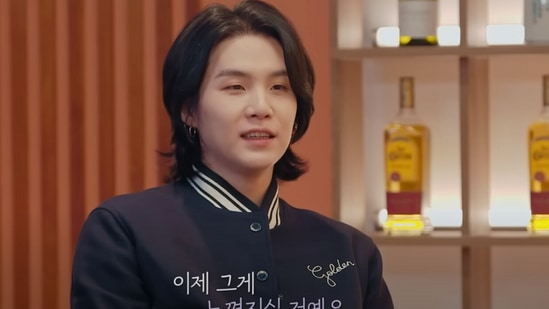 Suga aka Min Yoon Gi went on to talk about Jimin and Taeyang's Vibe on the show and said, "Jimin practised really hard. I was really surprised. He was at the practice studio, I would come and watch. He gets muscle cramps easily, but he said that he would practice no matter what." "Jimin works so hard until he gets it right. Even I couldn't keep up with him," added Taeyang. During the discussion, Suga also lauded Jungkook and called him a 'genius. "I am not saying he doesn't work hard but he has a lot of natural talent," said Suga.
Last year, BTS announced their hiatus to focus on solo careers. Their sudden announcement left many wondering if the team had broken up for good. Recalling the time, Suga said in his show, "We look coolest as a team…I really love them so much. Since I'm a part of it, I love BTS as a fan as well. We're brothers. I think it was in June, some content of us just drinking together was aired. People said the team was breaking up and going on hiatus. It wasn't like that at all, we were just going on a break, due to unavoidable reasons. But when people were saying those things, the whole situation felt so scary. Why is the world telling us to take a permanent break? We are still active."
BTS consist of RM, Jin, SUGA, J-hope, Jimin, V and Jung Kook. With members now focusing on solo projects, Jimin will soon release his full solo album after the success of Vibe. Member Jin is currently serving in the South Korean army and others will follow soon, as per their respective timelines. They are estimated to be back as a whole group some times around 2025.