Smoke Sauna Sisterhood review: One of the best documentaries of the year
Jan 28, 2023 11:45 AM IST
HT at Sundance | Smoke Sauna Sisterhood review: Taking place inside a sauna in southern Estonia, this intimate and empowering documentary cuts deep.
Only at the end credits of Smoke Sauna Sisterhood does one come to terms with the fact that the ancient practice of smoke sauna has been included on the list of the Intangible Cultural Heritage of Humanity. Inside the confines of a sauna in southern Estonia, women open up about their deepest and darkest experiences with each other. They are not just cleansing their body, but also their soul from feelings of shame. This tradition, remarkably captured by director Anna Hints, is certainly one of the breakout films playing at the World Cinema Documentary Section at Sundance Film Festival. (Also read: L'Immensità review: Penelope Cruz cannot save inconsistent drama)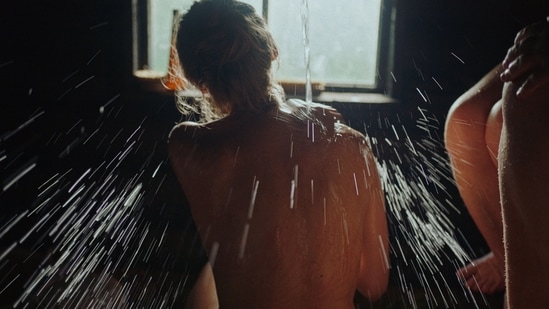 It begins with the shot of a naked woman breastfeeding her child. Her face is not visible, and the camera stays at the same level for some time. It doesn't strike at first, but from the following scenes onwards, none of the women we will meet in the span of 89 minutes will be in contact with their children or any men belonging to their family. Together they are stripped off their role as caregivers, wives, sisters and daughters- they are all ageless and faceless in their spectrum of feminine experience. These women will gather inside the wooden confines of the sauna located somewhere far inside the forest, and sit around to partake in a deeply spiritual tradition. One by one, they will speak about something that they feel strongly about, finding space and a common sisterhood to share their stories about being a woman in the present society. Sex, pregnancy, childbirth, body-image and even d*ck pics- these women uncover stories that are alternatively humorous and haunting.
Director Anna Hints places her gaze on the naked bodies of these women, filmed in extreme close-ups. Breasts, thighs and legs are enveloped within the darkness inside the sauna as the women share an intimacy rarely seen on screen. Cinematographer Ants Tammik often focuses on the reddened, warm skin of these women as they speak- not their faces, but just their arches, textures and sweat evaporating in the heat. It creates such a visually stunning, atmospheric study of community and inclusivity where you almost feel present right beside these women, sharing their stories, holding their hands.
When the conversations get too overwhelming, Hints cuts the scene to take a pause. For a few moments, we see the smoke gathering up, the trees in the surrounding and the river just beside the wooden structure. Edvard Egilsson's compositions- ranging from natural sounds to more heightened orchestral rhythms, are key to to unlock these pauses in-between. Smoke Sauna Sisterhood is superbly constructed- encompassing a harmony between nature and its entity seeking a spiritual quest. Time is important for these stories to develop and build. As the women keep talking, seasons pass in quiet moments. A year has already gone by. These anonymous figures meet again and again, eclipsing in their raw exchanges a potent feminist statement of their own.
The last 20 minutes of Smoke Sauna Sisterhood are brilliantly rendered. These stories become our stories, effortlessly culminating into a deeply spiritual quest for resilience and reclamation of one's own power. Anna Hints has created an astonishingly important work. Smoke Sauna Sisterhood is a cathartic experience that will remain with you for quite some time. Its a knockout.