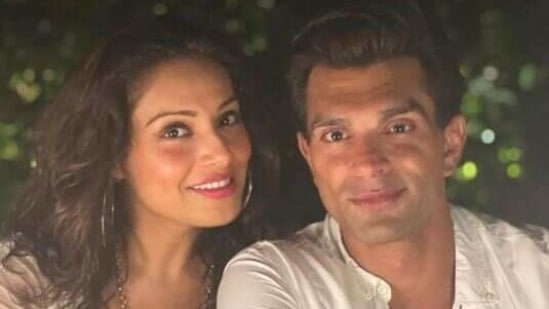 Karan Singh Grover was 'angry' with himself when he got Covid-19, regretted saying 'I'm the anti-virus' in the past
Karan Singh Grover, in a new interview, spoke on a range of subjects including his recent Covid-19 recovery, speculation about wife Bipasha Basu's pregnancy and more.
PUBLISHED ON MAR 10, 2021 05:52 PM IST
Actor Karan Singh Grover and his wife, actor Bipasha Basu, are popular on social media for the 'monkey love' series of posts that they keep putting up. Only recently, they were in the Maldives to celebrate Karan's birthday. Now, in a new interview, he spoke on a number of issues including his Covid-19 recovery, speculation of Bipasha's pregnancy and their many Maldives trips.
It may be recalled that Karan along with some of the members of the crew of his upcoming web show Qubool Hai 2.0 tested positive for the virus while on a shoot in Serbia towards December-end last year.
Talking about the recovery process, Karan told Times of India that he was very angry with himself as he had always joked about the whole thing. "I was very angry with myself when I got the virus. I often say things that I later regret and I went around saying that I am the anti-virus and I got the virus, I was like why do you have to say stuff? As for the recovery, every person reacts to everything differently. I couldn't smell for three days and that was the only symptom that I had. I was told not to work out for some time so for Bipasha's sanity I didn't work out for some time, not because I couldn't but just so that she doesn't get stressed. Now I am back to doing everything and the recovery was smooth."
For Karan's birthday in February, the couple flew down to the Maldives and posted stunning pictures from the island nation. Karan mentioned how going to the Maldives for birthdays has become a ritual for them. Since they had missed it last year, they made sure they went this year.
Also read: Step inside Arshi Khan's new home in Mumbai, for which she gave 'special thanks' to Salman Khan
Another question that keeps cropping up in their context is one about Bipasha's pregnancy. Addressing the issue, Karan said that they have been open about their lives and when it happens, all will know. "We are so vocal and we share our love so openly and proudly that whenever there is a little monkey running around, everyone will know! It is just natural progression that people fall in love, get married and then after a few years, they have a baby. And if you don't have a baby then people start speculating that you must have a baby. Whenever ours happens, we will let everyone know, till then you can keep speculating."
Bipasha and Karan have been married since 2016. Both had been in unsuccessful relationships in the past. Bipasha had been in a 10-year-old relationship with actor John Abraham, which didn't end well. Karan, meanwhile, had had two failed marriages. He had married actor Shraddha Nigam (2008) and later Jennifer Winget (2012), both of which ended in a divorce.

Close