At least 10 species in the Ganga face extinction: Ministry reports
May 27, 2018 09:59 PM IST
While the dolphin is listed as an endangered species according to the International Union for Conservation of Nature (IUCN ) Red list, the Gharial is critically endangered in the same list
At least 10 species, including the Ganges river dolphin and the gharial, found in Ganga for centuries, are on the verge of extinction, according to new report released by the ministry of water resources last week.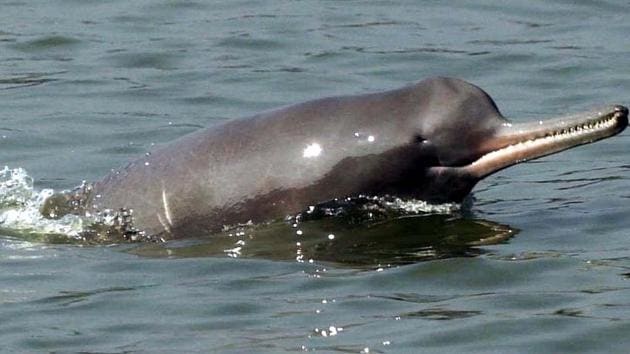 While the dolphin is listed as an endangered species according to the International Union for Conservation of Nature (IUCN ) Red list, the Gharial is critically endangered in the same list. The other species include birds such as the black bellied tern and Indian skimmer; turtles such as the northern river terrapin, three stripped roofed turtle, red crowned roofed turtle; and the golden mahaseer fish.
The sarus crane, the mugger crocodile and the snow trout have been put in the vulnerable list.
The report 'Macro Fauna of the Ganga River — Status of Conservation of Select Aquatic Species' was prepared by Wildlife Institute of India (WII) Dehradun as part of the 'Biodiversity Conservation and Ganga Rejuvenation' project by National Mission for Clean Ganga (NMCG). The project, according to officials, aims to develop a science based restoration plan for the Ganga.
The report says the Dolphin population, which was about 10,000 in late 19th century, reduced to 3,526 in 2014, adding that while the population of dolphins had stabilised between 2012 to 2015, it showed a drastic decline in recent years.
The report said the dolphins are now restricted to the Ganga and its larger tributaries, but have disappeared completely from the Haridwar-Bijnor barrage, which is about 100 kms downstream of Haridwar.
The report said that gharials (fish-eating crocodiles) were on the verge of extinction in India by the mid 1970s, until a captive breeding programme was initiated during 1975 , taking the population to 1,200 by 1995. The report said the gharial population again showed a decline since 1999. "The presence of gharial is important for health of the river. It eats sick fish and disappearance of gharial from the ecosystem signifies collapses ecosystem due to polluted water or drop in water levels,'' the report said.
"Its a rapid assessment done so far, the NCGM is supporting the baseline studies done by WII. The project, once completed, will help in Conservation of the species...'' said Rajiv Ranjan Mishra, Director General, NMCG.
According to officials, the river is showing some positive signs.
Environment expert Himanshu Thakkar said, "The species are affected when their habitat gets affected. It's not just the pollution, it's sand mining, dredging, building dams. For example, there is dredging taking place in the dolphin sanctuary but dolphins who are blind animals, send sound waves to know about their prey, their habitat, the dredging will affect the signals they receive from their habitat. We need to understand, how to protect , recreate and rejuvenate the habitat of these species."