Feather, dragon, barbed wire — the weirdest brow trends to take over the internet
Updated on May 09, 2017 07:18 AM IST
Move over caterpillar-thin brows because the brow art trend is actually a thing. But, the question is, would you try these at home?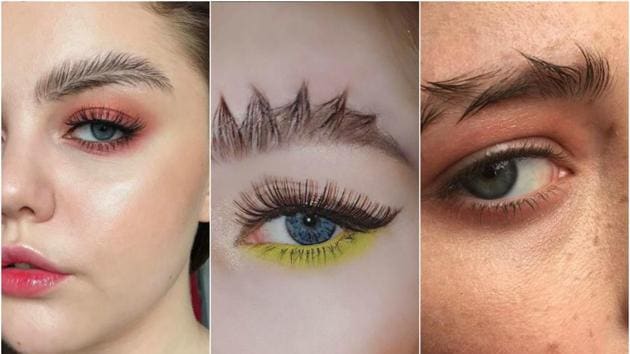 If there's one place where you're sure to find a new trend doing the rounds, it's the internet. The latest to surface is one where people are messing with their eyebrows, and some say, it's for style's sake! And while we're not sure if these trends will take off in India, they're certainly worth a look.
Feather brows
When Finland-based makeup artist Stella Sironen started the feather brow trend as a joke, she hadn't imagined it would take off and how! The look has found many takers across the globe, while also leaving several confused.
Dragon Brow trend
Drawing inspiration from Stella, self-taught makeup artist Harlibi from the US started a trend of her own - the very fierce Dragon Brow trend. The look requires creating dragon spikes using a spoolie or a brush. Fix the triangles in place with a hair gel or eyebrow glue and viola, there's your bold, mythical edge to the humble brows.
Barbed Wire Brows
This one, too, surfaced online after the feather brow trend. And for this one, you have makeup artist Athena Paginton to thank. All you need for this is some soap or brow gel, and a brush to help you shape your brows in triangles pointing upwards and downwards.
Monobrow
The only person who has made the monobrow seem cool would be iconic Mexican painter Frida Kahlo. And, believe it or not, it is back in fashion again, especially if you are a fashion renegade.
Personalise your news feed. Follow trending topics