Just like Sonam Kapoor: Here's how you can rock the denim sari on any occasion
Designer Masaba Gupta speaks about re-imagining the traditional drape and creating a denim sari for actor Sonam Kapoor.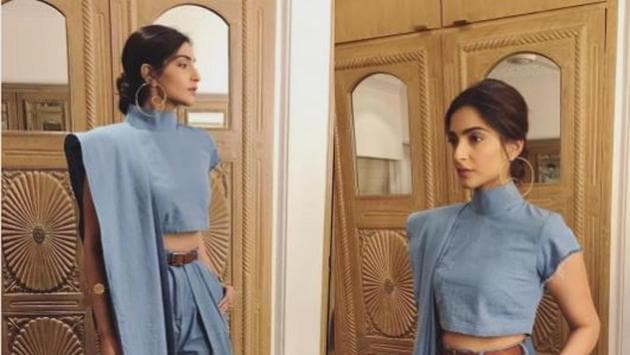 Updated on Feb 23, 2017 08:15 PM IST
We have to give it up this Bollywood fashionista for daring to break set style rules time and again. And, when it comes to the sari, the stakes are even higher if you are Sonam Kapoor.
When we spotted this denim drape on the actor, we got in touch with Masaba Gupta, its designer, to know what went behind the cool drape.
"Basically, Rhea (Kapoor) called and said 'we should do a denim sari!', and honestly, this is how me and her work. She'll call me and be like 'Oh my god! i have an idea. It'll spin off from there and then the brainstorming follows.There was even a conversation about a denim bra but we finally came down to the denim sari and I just did my version of it," she says.
The pants and the pallu
"We went for Japanese-inspired oversized pants and of course, I managed to put my print on it too — an abstract Ganesha motif. While the concept was cracked in 10 minutes, putting it together took a bit of time. If you look at the construction, it is very basic. I feel like the pallu can look really funny if not done properly. So, we went for a traditional take: a Gujarati drape at the front, which could also look like a shawl," she says.
+
Style it right like Sonam
Masaba says that deconstructing and re-inventing is what one needs to do to pull off something traditional in a contemporary, yet functional way. "Sonam looked super comfortable in the drape, and she paired it with flats. So, it's a super easy look to ace. The pallu can even be detached . So basically, the look can be broken down and styled in many ways. I believe an ensemble should never be restrictive, and this the purpose this denim sari serves."
Close Story