FIFA U-17 World Cup special: 'Brazil have to be patient vs an intense Germany'
Brazil clash with Germany in a blockbuster FIFA U-17 World Cup quarterfinal in Kolkata. Brazil will win a lot of local support at Salt Lake Stadium.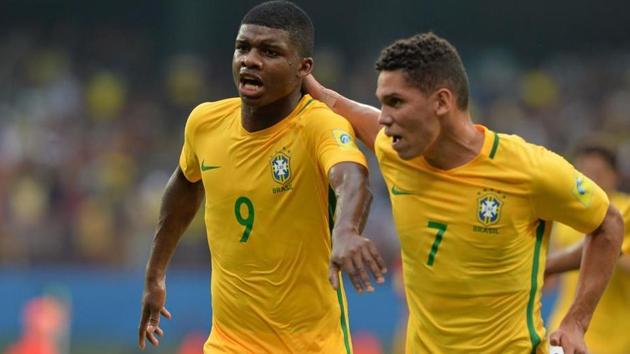 Updated on Oct 21, 2017 09:54 AM IST
There has been a lot of talk about revenge ahead of the quarterfinal match between Brazil and Germany. The context has been drawn to Brazil's 2014 loss to the Germans. We Brazilians are not moved by vengeance. Brazil won the 2002 World Cup against them and Germany won in 2014, no big deal. What moves Brazilian players is the passion for the game and enjoyment in playing football. We actually don't have rivalry with Germany, they are very good team to play against, that's it. (FIFA U-17 World Cup Full Coverage)
I am very happy to see how good the boys are doing. I hope they keep doing their best and playing with the same passion. Yes the next match will be tough. I think we will watch a wonderful and balanced game. It would certainly be a treat for the fans at Salt Lake Stadium in Kolkata and people across India watching on TV.
Germans know how to manage the ball and control the rhythm of the game, also they are very intense. Brazil have to be patient and explore our known skills and collective game to beat them. The coach might bring in more speed to the play, asking boys to move the ball fast and try an unusual shot combination or movement in the final moment to pass through the defence.
(Read | FIFA U-17 World Cup: Why Brazil goalie Brazao says clean sheets are due to forwards)
They always talk about Latin Americans flair versus European efficiency. I agree with the picture, even though I believe our style might be more efficient than the Europeans.
If not for earlier, Brazil would feel the gap created by Vinicius Junior absence for this match. He is one of the best in his age, but I see many skilful players to fill his absence and can stand up to the occasion. Lincon is certainly one such player. He has a promising future and could go on to become one more great Brazilian player in the football history.
(Read | FIFA U-17 World Cup: 'Jogi Loew keen to know what Germany are is doing in India')
That's the thing about Brazil and their ability of producing quality footballers. Our grassroots are very organized and professionalized in the medium to big clubs, even small clubs have produced big names. The clubs deal with young talents very seriously, they provide good structure to train, psychological and nutrition support. They hire high level professionals to teach and care about the youths.
I think Brazilian professionals can contribute to improve the process to build Indian youths as world big names in the future. Indian football has been making the right kind of noise in world football. Everybody who likes football in Brazil knows about Indian Super League. We Brazilians see ISL as a very good opportunity to play a good league and live in a nice country with exciting supporters.
Something my friend Sunil Chhetri had said about giving up 15 years of football to play for a World Cup. I completely agree with Sunil. For India, it has been the biggest footballing event and every footballer would love to be part of it. Playing in a World Cup is always an honour. If you ask me – even I wouldn't mind to time travel in leading my U-17 team once again!
(Known as 'The President' Gerson Vieira was the captain of Brazil U17 team in 2009 WC. Currently he plays for ISL club Mumbai City FC)
Close Story
Personalise your news feed. Follow trending topics