Worried about getting diabetes? Cut down on chips and other salty foods
A high intake of salt doesn't only lead to high blood pressure, it can also increase risk of developing diabetes, say researchers.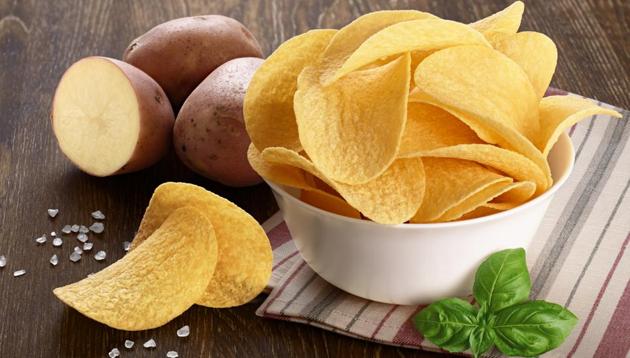 Updated on Sep 16, 2017 10:16 AM IST
Besides high blood pressure, the high intake of salt — the main source of sodium — may be associated with an increased risk of developing diabetes, researchers have found. The findings showed that for each 2.5 extra grams of salt (equivalent to each extra gram of sodium) consumed per day, there was an average 43% increase in the risk of developing Type 2 diabetes. Previous research said that maintaining a steady weight and a moderate amount of alcohol could cut risk of diabetes.
People who consumed more than 7.3gm salt a day displayed a 72% increased risk of compared to those with the lowest below 6gm, said researchers from the Institute of Environmental Medicine (IMM), Karolinska Institutet in Sweden. According to researchers, sodium — which makes up 40% of salt — may have a direct effect on insulin resistance, and/or by promoting high blood pressure and weight gain. Further, higher salt intake was also linked with a high risk of developing Latent Autoimmune Diabetes in Adults (LADA) — a form of Type 1 diabetes in which the insulin-producing cells in the pancreas are destroyed by the body's own immune system.
The study showed that the effect of sodium intake on the risk of developing LADA was even greater, with a 73% rise for each gram of sodium consumed per day. Patients with high risk leukocyte antigen (HLA) genotypes whose sodium intake was classed as 'high' (over 3.15 gm/day) were almost four times more likely to develop LADA than those consuming the lowest (under 2.4gm/day).
"We confirm an association between sodium intake and type 2 diabetes (and that) high sodium intake may be a risk factor for LADA, especially in carriers of high risk HLA genotypes," said lead author Bahareh Rasouli from IMM, while presenting the paper at annual meeting of the European Association for the Study of Diabetes (EASD) 2017 in Lisbon.
Follow @htlifeandstyle for more
Close Story