AC Milan banned from Europa League over Financial Fair Play violations
Jun 27, 2018 10:07 PM IST
AC Milan will be unable to play in the 2018-19 Europa League after being banned from UEFA competition due to breaches of Financial Fair Play (FFP) and licensing regulations.
AC Milan have been banned from next season's Europa League competition by UEFA following an investigation of the club's finances, European football's governing body said on Wednesday.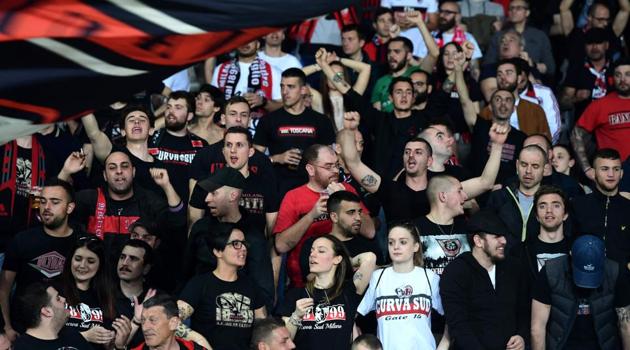 UEFA had been looking into Milan's finances to see if they complied with the Financial Fair Play (FFP) regulations, in particular the break-even requirement.
Milan have qualified for next season's Europa League and so the ban will stop them from playing in that competition.
READ | Defending champions Germany knocked out of FIFA World Cup 2018
"The club is excluded from participating in the next UEFA club competition for which it would otherwise qualify in the next two seasons (i.e. one competition in 2018/19 or 2019/20, subject to qualification)," UEFA said in a statement.
Under UEFA regulations, any European soccer club spending more than its generated revenue faces possible sanctions, including, in certain circumstances, a ban from playing.
UEFA rejected a plea from Milan in December to waive the rules after Chinese entrepreneur Li Yonghong bought the club last year from Italian holding company Fininvest, which is owned by the family of former Prime Minister Silvio Berlusconi.
READ | Sweden beat Mexico 3-0 but both qualify for Round of 16
U.S. private equity fund Elliott last year gave Li a 180 million euro ($212 million) loan to complete the purchase of the Serie A club, which is trying to emerge from years of losses with a turnaround plan.
The investigatory body expressed concerns about the re-financing of the loan, which is to be paid back in October.
The Italian club have failed to provide sufficient evidence of their financial stability going forward and have been handed the heaviest sanction yet for a FFP breach on a club from one of Europe's top five leagues.
Milan have the right to appeal the decision to the Court of Arbitration for Sport in Lausanne, Switzerland and will be hoping to get the ban lifted before the second qualifying round for the Europa League begins on July 29.