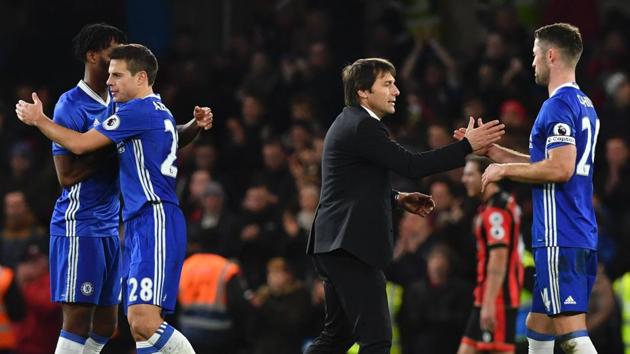 Antonio Conte says Chelsea F.C. are winning hearts and points in Premier League
Chelsea F.C., who secured a record 12th win in the Premier League and are seven points clear at the top, will be aiming to continue their great run into the New Year under Antonio Conte
PUBLISHED ON DEC 27, 2016 10:24 AM IST
Chelsea fans will always have a place in their hearts for Jose Mourinho but are also learning to love another Latin coach as Antonio Conte displays the sort of tactical acumen that is steering the club towards the title.
Monday's 3-0 home win over Bournemouth represented a club record 12th successive Premier League victory and left the Londoners seven points clear of their nearest rivals.
Such a happy Christmas at Stamford Bridge seemed most unlikely when Chelsea trailed Arsenal 3-0 at halftime in the league at the Emirates on Sept. 24 and supporters would have been questioning Conte's ability to win back the title Mourinho delivered in 2015.
The Italian did not write that game off as a totally lost cause and instead made a radical change by switching to a 3-4-3 formation and introducing new signing Marcos Alonso at left wing-back.
Adjusting quickly to their new shape, Chelsea did not concede in the second half and have won every game since playing in that system.
Going into Monday's match with Diego Costa and N'Golo Kante suspended, it was widely assumed Conte would throw in 33 million pounds ($40.54 million) buy Michy Batshuayi for his first league start up front.
Instead the manager sprung a surprise by playing without a recognised striker and was rewarded with inventive attacking displays from two-goal Spaniard Pedro, Belgian Eden Hazard, who got the other from the penalty spot, and Brazilian Willian.
"This is the first time we played without a real forward, we tried this in training and I think for us at the moment this situation is the best," Conte told reporters.
"But I don't forget Michy because he is a young player with great talent. He is adapting to this league ... in the future I trust in him."
Despite Bournemouth, who won the corresponding fixture last season to help ease Mourinho out of Chelsea's exit door, being in the game for long spells, the outcome was never really in doubt.
"We played a good game, we could have scored more but I am happy with the attitude of the players," Conte said. "We played without two important players but I think we played very well.
"To win 12 games in a row is not easy in this league. It's a fantastic run but it's important to continue that ... because now every team wants to beat you," added Conte.
"We can't look at the table but just need to keep this mentality."
($1 = 0.8139 pounds)
(Editing by Tony Jimenez)
Close