Antonio Habas to be in charge of ATK-MB
Updated on Mar 15, 2020 11:08 PM IST
The Spaniard, who had guided them to the title in the inaugural ISL in 2014, was back at the helm at the start of 2019 following two tumultuous years, which witnessed four coaches with the team finishing ninth and sixth in the standings.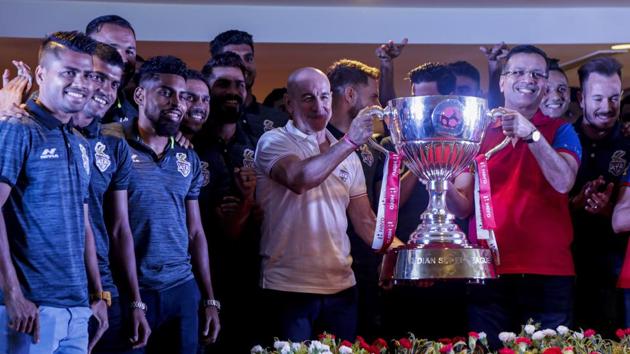 ATK and Mohun Bagan, champions of the Indian Super League (ISL) and I-League respectively, will fuse into a new identity with Antonio Lopez Habas in charge. This was announced here on Sunday by Sanjiv Goenka hours after ATK won their third ISL title in Goa, and Habas his second, with a 3-1 win against Chennaiyin FC. Goenka is the principal owner of ATK. The RPSG Group, of which he is chairman, also owns 80% of the new company with Mohun Bagan. Its football team will play in the ISL from 2020-21.
"Between ATK and Antonio, I think there is something in the stars. We will work together and we will succeed together," said Goenka surrounded by players, support staff and with the trophy mounted in the centre. The programme in his office being in the time of the COVID-19 scare had security guards wearing gloves, hand sanitisers available at the door and entry permitted only after submitting to a thermometer gun.
Strong connect
"ATK has people that love me, like I love ATK. I have a special connect with ATK since the first season and it continues. We are a family. This is amazing. This is the secret (to his winning two ISL titles)," Habas, who had helped ATK win the first season in 2014, said on Saturday.
Usually animated and often curmudgeonly on pitchside, Habas, 62, said: "This was the first part of the project. We now have to consolidate our position. ATK is a club with personality. I hope we can be in the same situation next season."
Global plans
With the new team qualifying for the AFC Cup in 2021 because Mohun Bagan have won the 2019-20 I-League, Goenka said he has ambitions of going international. "Right now that would sound like a tall statement but that is the aim for the future. We hoped we would get the Champions League berth but congratulations to FC Goa," he said. FC Goa will play the main round of the 2021 Asian Champions League because they topped the ISL league phase this season.
ISL clubs have suffered major berth pangs in Asia since the competition got a continent slot in 2019. Chennaiyin FC, ISL champions in 2017-18, failed to get out of the group stages of the AFC Cup, Asia's second level club tournament, in 2019.
Last month, Bengaluru FC, ISL winners in 2018-19, failed to make the group stage, losing in the qualifying round to Maldives' Maziya S&RC. I-League champions in 2017-18, Minerva Punjab FC, now Punjab FC, too exited in the group stages last season.
Correcting wrongs
Goenka said ATK made many mistakes over the past two seasons. "We tried correcting them and this is the result." Getting Habas back after 2015 would be one of them. After winning the ISL in 2016—their second title in three editions—ATK severed links with Atletico Madrid who were co-owners and helped in signing foreign players and appointing the coaching staff.
For 2017-18, ATK named Teddy Sheringham as coach and Ashley Westwood as technical director and overhauled the squad.
By January, 2018, the wheels had come off and after three wins, four losses and four draws, Sheringham was sacked. Westwood took over but by early March he too had to step down leaving the reins of the team to an assistant coach and marquee player Robbie Keane. ATK finished ninth among 10 teams. Under Steve Coppell, 2018-19 was marginally better but again ATK failed to qualify for the play-off finishing sixth after six wins, six losses and six draws.
Goenka said India players Manvir Singh and Subhasish Bose have been signed for next season. Singh was with FC Goa and Bose played for Mumbai City FC.
Clarity on Mohun Bagan players joining will be had after the company comes into effect on June 1.
Personalise your news feed. Follow trending topics