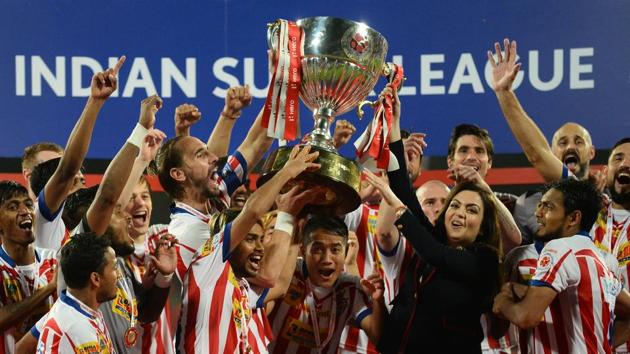 Atletico de Kolkata crowned ISL 2016 champions after beating Kerala Blasters FC
Atletico de Kolkata beat Kerala Blasters 4-3 on penalties to claim their second Indian Super League (ISL) title in three seasons.
UPDATED ON DEC 19, 2016 01:20 AM IST
After a final that tasted like porridge, Atletico de Kolkata (ATK) regained the Indian Super League (ISL) title when Jewel Raja slotted home the last penalty in the tie-breaker. Goalie Debjit Majumder got a leg in in time to deny Kerala Blasters' skipper Cedric Hengbart and that proved to be enough in the ISL final. ATK won 5-4 in what was easily the worst of the three finals but they surely weren't complaining. Regulation time and extra-time ended 1-1 after Mohammed Rafi's goal was cancelled by Henrique Sereno. (HIGHLIGHTS)
A product of the seven-a-side competitions that are so popular in north Kerala before joining State Bank of Travancore, Rafi, 34, attacked the ball to score against his former team, with whom he won the ISL in 2014, from Mehtab Hossain's corner-kick. The lead though was short-lived as ATK equalised from a set-piece. Sameehg Doutie's corner-kick fell nicely for Portuguese central defender Henrique Sereno, who managed a header despite Sandesh Jhingan embracing him like a long-lost sibling. This was Sereno's first ISL goal and it came in his 10th game.
Before and after that, the match was a stodgy affair till the artificial excitement of the penalties took over. Kerala Blasters preferred to sit back and look for an opportunity to hit on the break, a ploy ATK neutralised with their defensive organisation. This, after routing initial forays through the inside left channel, making the most of Doutie not tracking back. Central defender Tiri prevented one such move from assuming dangerous proportions with a sliding effort.
It was in the front third that ATK looked lost because Iain Hume and Helder Postiga did little to make the evening memorable. Postiga couldn't keep snap shots on the target thrice and was taken off for Javi Lara. With Aaron Hughes pulling out early following a collision with a teammate, this was another match played without marquees for the most part.
Juan Beloncoso being in stands after a red card in the second semi-final meant Hume would stay on the pitch at half his usual sharpness. Frustrated all night also by ATK's poor delivery service, Hume's shift ended with his penalty in the shootout being saved by Graham Stack. Till Elhadji Ndoye blasted over his penalty, Hume looked like he had chewed lemon.
The other player who was a let-down for ATK was skipper Borja Fernandez. The central midfielder perhaps made more errors on Sunday than he had in all of the ISL. Maybe being booked early – ATK's only card in the game --- affected his composure.
Inspite of an underwhelming performance from four key players, ATK had more chances, or half-chances, because of Raja who moved up fearlessly in the first half, stealing possession and, in the 17th minute, making a strong run down the middle.
Twice in the next six minutes, Raja created opportunities that ATK might have put away on another night. After two hours of ordinary football, it was fitting that the evening's best player would have the last word. Or the last shot, as it were.
Close