FIFA World Cup 2018 Belgium vs Panama highlights: Lukaku scores brace, BEL thrash PAN
Belgium dominated Panama in their Group G opener at the FIFA World Cup 2018 to defeat then 3-0. Get highlights of Belgium vs Panama, FIFA World Cup 2018 Group G game, here.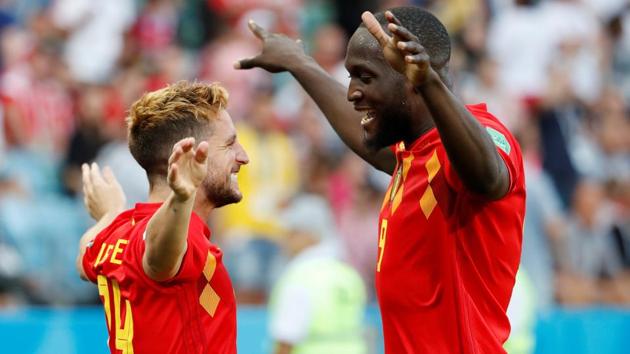 Updated on Jun 18, 2018 10:30 PM IST
Belgium's creativity and power proved too much for World Cup debutants Panama as the Group G favourites overcame the heroics of goalkeeper Jaime Penedo and a massed defence to run out 3-0 winners on Monday. It took a wonderful dipping volley from Dries Mertens on the right-hand edge of the area just after halftime to break the deadlock. Hazard laid the ball off to Kevin De Bruyne who flipped a diagonal ball with the outside of his foot through for a lurking Lukaku to head home in the 69th minute. The Manchester United striker made it 3-0 in the 75th, latching on to a through pass from Hazard and chipping over Penedo. Get highlights of Belgium vs Panama, FIFA World Cup 2018 Group G game, here.
22:28 hrs IST: In the next match of the world Cup, England face Tunisia in their opening match. The match starts at 11:30 pm IST. Do join us for the live updates, till then goodbye!
22:24 hrs IST: That's it! Belgium are off to a brilliant start as they thrash Panama 3-0
22:18 hrs IST: Panama are trying hard but they need more here. It's four minutes of added time.
22:12 hrs IST: Thorgen Hazard comes in for Mertens. So, a brother duo is now playing for Belgium.
22:08 hrs IST: It's Lukaku's third career goal, and he now has 15 goals in his last 10 matches for Belgium
22:04 hrs IST: GOAL!! Lukaku gets his second with a smart chip over Panama goalkeeper in the 75th minute
21:58 hrs IST: GOALL!! Lukaku heads home in the 69th minute after an outside foot cross from De Bruyne. Belgian attack is shaping up finally.
21:51 hrs IST: Two substitutions for Panama - Gabriel Torres and Ismael Diz come in
21:48 hrs IST: Yellow card for Belgium's Jan Vertonghen. Second for a Belgian player today.
21:47 hrs IST: And out of no where, Panama's Edgar Bárcenas gets a chance from just outside the box. But he shoots wide.
21:41 hrs IST: De Bruyne's free-kick goes just wide.
21:38 hrs IST: GOAL!! Dries Mertens drills a stunning volley to give Belgium 1-0 lead vs Panama in the 47th minute
21:36 hrs IST: Welcome back!
21:19 hrs IST: It's half-time! Belgium 0-0 Panama. So many chances for the former and yet no goals. Their famous forward line need to do more.
21:16 hrs IST: There is not much action in the Belgian half. Panama need to step up when the opportunity comes.
21:11 hrs IST: 40 minutes up! And the same story continues. A team full of Premier League stars are attacking but shooting the ball wide, over the bar. No goals yet!
21:08 hrs IST: Eden Hazard come perilously close. He makes an inward run and shoots directly to Penedo - the Panama goalkeeper.
21:05 hrs IST: Panama get a corner! They need it.But nothing come out of it!
20:59 hrs IST: Panama's Armando Cooper is on the ground. He was injured while heading. Belgium are being allowed to attack deep, as Panama defence holds it somehow. Their resistance may shake anytime, if they don't counter attack.
20:52 hrs IST: Another chance! De Bruyne's pass is cleared for a corner from inside six yards. And then the same player's shot now goes over the bar. 22 minutes gone but no goals yet.
20:48 hrs IST: Belgium are letting away possession in midfield. They have been creating chances but is lacking sting.
20:45 hrs IST: Thomas Meunier gets yellow card! Belgium 0-0 Panama (13')
20:42 hrs IST: Panama defence is clearly feeling the pressure! Torres almost mispasses to Hazard, who hits the sidenetting.
20:37 hrs IST: Belgium is on the offensive now. Forst Carrasco shots directly to Panama goalkeeper Jaime Penedo and then another attack build up.
20:36 hrs IST: Tannick Carrasco foul earns Panama a free-kick wide. Erick Davis take it from the right but Kevin De Bruyne heads it clear
20:31 hrs IST: Lukaku is almost, well almost!. He gets inside the box but his shot goes nowhere.
20:30 hrs IST: Action starts!
20:25 hrs IST: The teams are here for the national anthems.
20:13 hrs IST: With Kompany and Thomas Vermaelen injured, Boyata was chosen to start in a talent-packed side that includes Manchester City's Kevin De Bruyne, Chelsea's Eden Hazard and Manchester United's Romelu Lukaku.
20:10 hrs IST: With Kompany and Thomas Vermaelen injured, Boyata was chosen to start in a talent-packed side that includes Manchester City's Kevin De Bruyne, Chelsea's Eden Hazard and Manchester United's Romelu Lukaku.
20:07 hrs IST: Dedryck Boyata has replaced the injured Vincent Kompany at the heart of the Belgium defence for their Group G opener
20:05 hrs IST: Belgium (3-4-2-1): Courtois, Alderweireld, Boyata, Vertonghen, Meunier, Witsel, De Bruyne, Carrasco, Mertens, E. Hazard, R. Lukaku.
Panama (4-1-4-1): Penedo, Murillo, Escobar, R Torres, Davis, Gomez, Godoy, Cooper, J Rodriguez, Barcenas, Perez.
20:00 hrs IST: Welcome all to the live coverage!
In any case, they may be more needed for Tunisia and then England in Group G, than against Panama. Celtic's Dedryck Boyata may step in to give Kompany's groin more time to recover.
An unbeaten qualifying campaign under the Spaniard, brought in after quarter-final disappointment at Euro 2016, had Martinez bring the kind of man-management he used at Everton and Wigan Athletic to meld a core of Premier League talents around Kevin De Bruyne and Chelsea playmaker Eden Hazard into an actual team.
Despite a fan revolt over his decision to leave out Roma's Radja Nainnggolan, Martinez has inspired 11 million Belgians to believe this team can outdo the squad who made the semi-finals in 1986.
For Hazard, who at 27 Martinez is comparing to Lionel Messi at his peak, the four years that have passed since a 1-0 quarter-final exit to Argentina at the last World Cup have seen the Belgians mature.
For the likes of Manchester City skipper Kompany, now 32, "it's now or never" if Belgium are to go one better than their neighbourly rivals, twice-finalists the Dutch, and become by far the smallest nation since Uruguay in 1950 to lift the World Cup.
Panama on paper pose little threat in Sochi to a side likely to line up with three at the back and Hazard and Dries Mertens supporting Manchester United striker Romelu Lukaku. Fail to win and it could be a "crisis", defender Toby Alderweireld admitted.
Narrowly qualifying for a first finals under Colombian coach Hernan Dario Gomez, Panama were thumped 6-0 by Switzerland in their pre-tournament build-up while Belgium disposed of much more fancied Central Americans Costa Rica 4-0 last week before travelling.
Close Story
Personalise your news feed. Follow trending topics