World Cup final, France vs Croatia, highlights: France beat Croatia 4-2, clinch title
Updated on Jul 15, 2018 11:19 PM IST
France beat Croatia 4-2 to clinch the FIFA World Cup 2018 title at the Luzhniki Stadium in Moscow. Follow highlights from the World Cup final 2018 and closing ceremony here.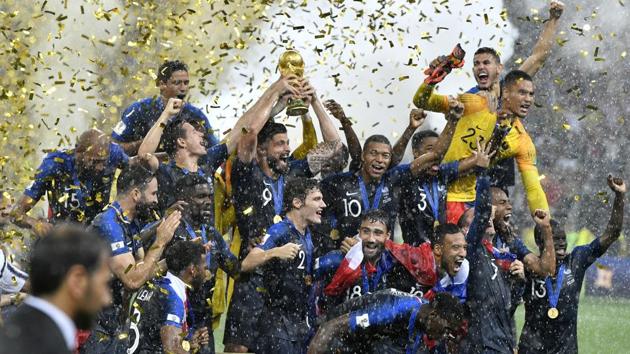 France are the World Cup 2018 champions after beating Croatia 4-2 in the final at the Luzhniki Stadium in Moscow on Sunday.The Les Blues took the lead thanks to an own goal from Croatia forward Mario Mandzukic but Ivan Perisic, who had also scored in the semi-final, levelled with a powerful shot 10 minutes later after France had failed to clear a Luka Modric free-kick. Sadly, it was Perisic who was then responsible for conceding a penalty for handball that was give following a VAR decision and Griezmann converted the spot-kick in the 38th to put France back in front. In the second half, Kylian Mbappe and Paul Pogba scored to hand France the advantage before Mario Mandzukic pulled one back for Croatia. Follow highlights from the World Cup final, France vs Croatia here.
23:18 hrs IST: That's all for this year. It has been a brilliant World Cup and a wait of four years lie ahead for football fans all round the world. Good night and good bye!
23:04 hrs IST: What epic scenes! It was a day for Deschamps. It was a day for Pogba. It was a day for Mbappe. It was a day for France to celebrate a new generation of heroes, and to hope it will not be 20 more years before they can do it again.
22:57 hrs IST: The Golden Glove award goes to Belgium keeper Thibaut Courtois. Spain receives the FIFA Fair Play award.
22:54 hrs IST: Croatia skipper Luka Modric receives the Golden Ball award. Kylian Mbappe gets the FIFA Young Player Award.
22:43 hrs IST: England striker Harry Kane wins the Golden Boot with six goals!
22:40 hrs IST: The title is France's first since it won on home soil in 1998, and it ended a thrilling run by Croatia. The Croats survived three consecutive extra-time games and two penalty shootouts to reach their first final, and they even had the better of the game Sunday.
22:35 hrs IST: France's power on the counter-attack saw them take a 4-1 lead over Croatia in Sunday's World Cup final at Moscow. Kylian Mbappe became the second teenager after Pele to score in the World Cup final.
22:32 hrs IST: Didier Deschamps becomes the third person to win World Cup as a player and as manager after Mario Zagallo and Franz Beckenbauer.
22:28 hrs IST: France are the sixth side to win the #WorldCup title multiple times after Brazil (5), Germany (4), Italy (4), Argentina (2) and Uruguay (2)
22:25 hrs IST: FRANCE ARE THE FIFA WORLD CUP 2018 CHAMPIONS!
22:20 hrs IST: 5 minutes of added time and France can taste the victory. France have a 4-2 lead over Croatia in a World Cup final that has featured a series of firsts including an own goal and a penalty awarded after a video review.
22:15 hrs IST: 5 minutes left. Looks like it is game over for Croatia. They did have their moments today, but France was just the better side and they took their opportunities as Didier Deschamps is on the verge of making history.
22:10 hrs IST: Change for France -- Nabil Fekir for Olivier Giroud. 10 minutes left in regulation time and it is now or never for Croatia. A change for them as they introduce Marko Pjaca.
22:07 hrs IST: Pussy Riot has just claimed responsibility for the four pitch invaders who disrupted the World Cup final between France and Croatia in Moscow. Just after Croatia goalkeeper saved Kylian Mlbappe in the 51st minute, four people emerged from the other end of the field. One made it to the center circle.
22:04 hrs IST: Another long-range attempt from Sime Vrsaljko and again, it is off-target. This is looking like game over for Croatia, but they are certainly not losing hope in Moscow.
22:00 hrs IST: The fight back is on from Croatia! Horrible mistake from Hugo Lloris as he is robbed by Mario Mandzukic to score and give Croatia some hope. France 4-2 Croatia.
21:58 hrs IST: It's not over yet! Mario Manzukic scores as Croatia makes it 4-2!
21:57 hrs IST: Another long-ranger and Subasic is beaten once again! Kylian Mbappe had a clear sight of goal and his goal made him the second teenager to score in a World Cup final.
21:54 hrs IST: Kylian Mbappe makes it 4-1 for France against Croatia!
21:49 hrs IST: A calm and composed finish from Paul Pogba and Subasic had absolutely no chance. He had no clear line of sight and France are well and truly in the driver's seat right now.
21:48 hrs IST: Paul Pogba strikes! France make it 3-1 against Croatia in Moscow!
21:44 hrs IST: First substitution for France -- Steven N'Zonzi for N'golo Kante. Kante was on yellow card and this is sort of a like-for-like change. France lead Croatia 2-1.
21:41 hrs IST: Consistent attacking from Croatia and France need to get out of this bind. Vrsaljko had a chance but his shot was nowhere near the target. On the other hand, Mbappe made a brilliant run but his attempt was taken care of by Subasic.
21:37 hrs IST: A solid shot by Ante Rebic but an equally good save from Hugo Lloris means that Croatia still trail in this game. It has been end-to-end stuff till now and the teams are showing no signs of slowing down.
21:34 hrs IST: The second half is underway and Croatia are looking to attack from the first touch. The start will be crucial for Modric & Co as they need this equaliser quickly. France 2-1 Croatia.
21:30 hrs IST: The Video Assistant Referee (VAR) was used for the first time in a World Cup final to award France a 38th-minute penalty which Antoine Griezmann scored to give them a 2-1 lead over Croatia on Sunday.
21:25 hrs IST: Antoine Griezmann's spot-kick was the fifth penalty in a World Cup Final - and all have been converted. The previous one was also for France: Zinedine Zidane's against Italy in 2006.
21:20 hrs IST: For the first time since 1974, there have been 3 goals scored in the World Cup Final first-half.
21:18 hrs IST: End of the first half! France lead 2-1 against Croatia thanks to a penalty from Antoine Griezmann and an own goal from Mario Manzukic. Ivan Perisic scored the only goal for Croatia.
21:14 hrs IST: There is no stopping Croatia as they are attacking with the same passion even after conceding the goal. Two corners for them but still no result.
21:11 hrs IST: It was a tricky call from the referee but he took help from the VAR and the penalty went to Griezmann. The France international have not missed any penalty in this tournament and he kept his record spotless with a calm and composed finish.
21:09 hrs IST: Antoine Griezmann scores from the spot! France have taken the lead once again!
21:06 hrs IST: Tough decision for the referee. But, he decides that the ball has hit Ivan Perisic's hand and it is a penalty for France! This is huge for Les Blues!
21:01 hrs IST: What a control and what a finish from Ivan Perisic! He controlled the ball with his left foot and the shot was just too good for Hugo Lloris as Croatia are back in the encounter!
21:00 hrs IST: Croatia have equalised! Ivan Perisic makes it 1-1 against France!
20:57 hrs IST: First yellow card of the final and it goes to N'golo Kante.
20:55 hrs IST: A brilliant pass from Luka Modric but Ivan Rakitic was unable to connect properly as France continue to lead 1-0. The goal has given them a lot of confidence and Croatia need to equalise fast or else, the Les Blues are the masters of defending in tight situations.
20:53 hrs IST: 69 set-piece goals have now been scored at the 2018 World Cup; the most ever in a single tournament
20:50 hrs IST: It was a looping free-kick from Antoine Griezmann and the final touch from Mario Manzukic took it away from Subasic in goal. First blood for Les Blues!
20:48 hrs IST: France have taken the lead against Croatia in Moscow!
20:44 hrs IST: Marcelo Brozovic has been a constant in the Croatia midfield and it is his presence that allows Luka Modric to play freely in the offensive position. Once again, he is partnering Ivan Rakitic in the defensive midfield position and that can help his side in maintaining the proper form while attacking.
20:40 hrs IST: Two corners for Croatia. However, they were both cleared out of the penalty box and France are still unbeaten. This is a great start for Croatia and they need to keep pressing against their more fancied opponents.
20:36 hrs IST: Croatia on the offensive and this is a great start for the supposed underdogs. Perisic is once again their main man while attacking and his cross to Mario Manzukic could have been quite dangerous for France.
20:33 hrs IST: Both teams starting in a conservative fashion as they looking to take control of the ball in midfield. The France midfielder s will be looking to give the ball to Kylian Mbappe who can split any defence with his runs.
20:30 hrs IST: We are already there and it is kick-off! 90 minutes (and possibly extra-time and penalties) separate these players from immortality!
20:25 hrs IST: The teams are out in the middle and it is time for the national anthems. This is a huge moment for all the players and they will be determined to make this chance count.
20:20 hrs IST: Russian President Vladimir Putin will help present the trophy to the winning captain after the World Cup final. FIFA president Gianni Infantino will join Putin for the ceremony on the field at Luzhniki Stadium. The recent World Cup tradition is for presidents of FIFA and the host nation to jointly hand over the gold-and-malachite trophy.
20:16 hrs IST: Nestor Pitana will be the referee for the final match. The 43-year-old has already refereed four matches at Russia 2018: Russia v Saudi Arabia and Mexico v Sweden in the group stages, followed by the the Round of 16 match between Croatia and Denmark and the quarter-final between Uruguay and France.
20:12 hrs IST: President Emmanuel Macron of France has been joined by one of his predecessors, Nicolas Sarkozy, as guests of FIFA to see their national team play Croatia in the World Cup final.
20:10 hrs IST: The closing ceremony is being headlined by Will Smith, Nicky Jam and Kosovian artist Era Istrefi singing the World Cup anthem Live It Up!
20:08 hrs IST: Across France, parks, bars and balconies have been transformed into a sea of blue, white and red flags as football fever sweeps the nation, with a flood of excited fans hungry to watch the action. Much of the younger generation is hoping to taste the same euphoria their parents knew 20 years ago when France won its first World Cup
20:05 hrs IST: French fans meanwhile have dared to dream of a FIFA World Cup victory as they prepare to watch the final on a sunny summer weekend after a tournament that has lifted spirits and led to a rare sense of national unity
20:00 hrs IST: However, they lost to France in the semi-finals but fought back to beat England again in the third place match
19:55 hrs IST: Belgium's football team received a hero's welcome in Brussels today after achieving their best-ever World Cup result in Russia. Belgium beat Panama, Tunisia and England in the opening round, staged a dramatic comeback against Japan in the last-16 and fought past Brazil in the quarter-finals
19:50 hrs IST: Meanwhile FIFA President Gianni Infantino has said that he has fallen in love with Russia during the 2018 FIFA World Cup
19:45 hrs IST: So unchanged teams have been named for the FIFA World Cup final for both Croatia and France
19:40 hrs IST: Russian President Vladimir Putin has formally passed the torch to Qatar for the World Cup in 2022. Read the full story here.
19:35 hrs IST: Well, it is a huge occasion for Croatia and the fans are well aware of it. Braving rainy weather, Croatian fans are gathering in squares and streets around the country ahead of the World Cup final with France.
19:30 hrs IST: Croatia's best showing before this year was when it reached the semifinals in 1998. But the team lost to host France in that game 20 years ago, and the French team went on to win its only World Cup title.
19:25 hrs IST: Ivan Perisic and Ivan Strinic, who had been pre-match injury doubts, have been passed fit for Croatia.Perisic was the star of Croatia's 2-1 extra-time victory over England at the same Luzhniki Stadium on Wednesday, scoring his country's equaliser and then setting up the winner for Mario Mandzukic.
19:20 hrs IST: The France team has arrived at the Luzhniki Stadium for the World Cup final against Croatia. The team, escorted by five police motorcycles, arrived in a bus with a French flag adorned to the windows on either side of the vehicle.
19:16 hrs IST: France have played comparatively few minutes in the knockout phase and have a fully fit squad to choose from. Deschamps appears to be sticking with a 4-2-3-1 system, meaning Antoine Griezmann will start behind striker Olivier Giroud.
19:12 hrs IST: It has been a landmark year for Croatian football. The country has been caught up in football fever after the Balkan nation of 4.2 million people swept aside more fancied opponents to reach its first ever World Cup final, which Russia is hosting this year.
19:06 hrs IST: France and Croatia name unchanged teams for World Cup final. Croatia played 120 minutes or more in their last three games, but all the players are fit for the summit clash on Sunday.
19:01 hrs IST: Now, a look at the Croatia XI -- Subasic, Vrsaljko, Lovren, Vida, Strinic, Brozovic, Rakitic, Rebic, Modric, Perisic, Mandzukic.
18:58 hrs IST: The teams are here and a look at the France starting XI -- Lloris, Pavard, Varane, Umtiti, Hernandez, Pogba, Kante, Mbappe, Griezmann, Matuidi, Giroud.
18:54 hrs IST: Luka Modric has been star for Croatia in this World Cup and the skipper will once again be their main weapon against a disciplined France. The midfielder is well known for his penetrative passing and astute positioning sense.
18:49 hrs IST: A day after the nation celebrated Bastille Day - the storming of a prison during the French Revolution in 1789 - with a late-night fireworks display over the Eiffel tower, large numbers of fans have already started congregating in the same spot to watch the final.
18:46 hrs IST: The Croatian president has called on Russians to support Croatia in the World Cup final. In a video message recorded on a plane and posted to Facebook , Kolinda Grabar-Kitarovic says in Russian "You are great hosts. Support Croatia today. Let's be happy together."
18:41 hrs IST: France are looking for the second title after beating Brazil in the 1998 final. FUN FACT -- Kylian Mbappe wasn't even born when they won the title. However, the youngster has been the heart and soul of this team.
18:38 hrs IST: Hello and welcome to the coverage of the FIFA World Cup 2018 final between France and Croatia.
Didier Deschamps, who captained France when they lifted the World Cup in 1998, can become only the third man to win the trophy as both a player and a manager after Franz Beckenbauer and Mario Zagallo.
The last time the two nations met in a World Cup was in the 1998 semi-final when two Lilian Thuram goals sunk a Croatian side playing in their first World Cup as an independent nation.
Personalise your news feed. Follow trending topics