Vladimir Putin passes torch to Qatar for FIFA World Cup 2022
Published on Jul 15, 2018 07:29 PM IST
Vladimir Putin on Sunday passed on the FIFA World Cup torch to Qatar which will host the next edition of the tournament in 2022.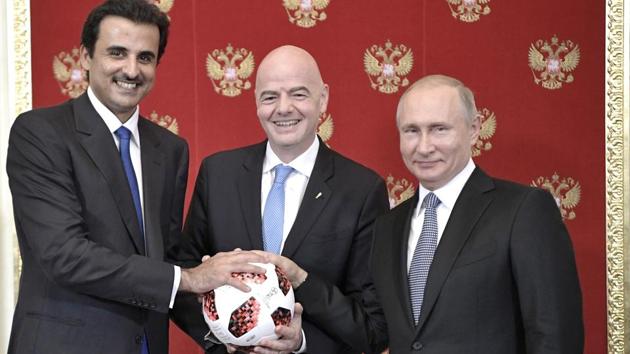 Moscow |
Associated Press
Russian President Vladimir Putin has formally passed the torch to Qatar for the World Cup in 2022.
Ahead of the final in Moscow between France and Croatia, Putin has met at the Kremlin with Qatar's emir Sheikh Tamim bin Hamad Al Thani and FIFA president Gianni Infantino.
READ | France and Croatia seek FIFA World Cup 2018 glory
Putin says Russia's World Cup has been a success and "I am sure that our friend from Qatar will succeed at holding the FIFA 2022 World Cup at the same highest level."
Putin ceremonially handed a football to the emir to mark the transfer to Qatar, which will be the first Arab country to host the tournament.
The emir says through a translator that the World Cup "will be a huge and great festival for all our country."
France or Croatia?
READ | 'Everybody is welcome' - Croatia pitch for neutral support in FIFA World Cup final vs France
One of those two teams will become World Cup champion later Sunday.
The French, who won their only World Cup title at home in 1998, will be playing in their third final in 20 years. The Croats have the chance to win the biggest prize in soccer for the first time.
The match at the Luzhniki Stadium in Moscow caps a month-long tournament that started with 32 teams playing in 12 stadiums around Russia.