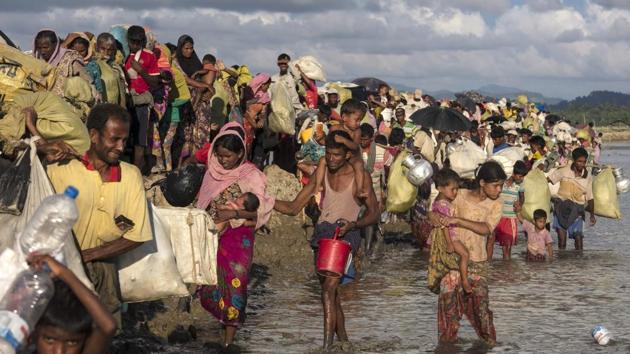 Former Kolkata Maidan star and 1994 World Cupper Emeka Ezeugo to run for Rohingyas
Emeka Ezeugo has also planned fund-raising friendlies for Rohingya refugees involving 1994 Nigeria and Italy World Cup teams in Kolkata after the 2018 World Cup
UPDATED ON APR 03, 2018 11:43 PM IST
Moved by the plight of Rohingya refugees, Emeka Ezeugo has decided to run to their aid. Literally. It is a fund-raising project whose details seem sketchy but not his conviction.
Ezeugo, 50, played in the 1988 Seoul Olympics and the 1994 World Cup finals for Nigeria after he started his football career with East Bengal in 1986-87. That makes him unique because it is the opposite of what now happens thanks to the Indian Super League. Ezeugo returned to Kolkata for a stint with Mohun Bagan in 1997, one best remembered for a public fallout with club coach Amal Dutta.
Before that, in 1990, came a brief stint with Mohammedan Sporting and the way he hand-held the black-and-white shirts into the semi-final of the Nehru Centenary Cup, an international competition in Kolkata, is still referred to with reverence in the city's football circles. It won him a contract with Denmark's Lyngby BK, one of the teams in that tournament, which proved to be an important step on the road to USA 1994.
READ | Super Cup: FC Pune City look forward to enticing battle against Shillong Lajong
But while that is history, Ezeugo's latest visit to Kolkata is to raise money for a humanitarian cause. "It is a dream that I had, one that got me from New York where I now stay to here," said Ezeugo at the Calcutta Sports Journalists' Club on Tuesday.
The plan for now is to run 1500km from Kolkata and back through Chittagong, Cox's Bazar and Dhaka starting later this month. "It will take me a month and a half. I aim to do between 30 and 40km each day. I have done something like this in Nigeria to sensitise people after a general election saw voting based on ethnicity among other things," he said.
Ezeugo said the logistics are yet to be firmed up but plans to make a similar announcement in Dhaka later this month after a whistle-stop visit to the United Nations this week where he said he would be a guest speaker. He also plans to raise money for the displaced people by getting the 1994 World Cup teams of Nigeria and Italy to play against an Indian XI in Kolkata. Once again, the details didn't seem to be in place but Ezeugo is confident that it will all work out. And it will happen after the 2018 World Cup finals, he said.
Topics
Close