How Cristiano Ronaldo changed Bhutan football star Chencho's destiny
Nov 22, 2017 11:59 PM IST
Chencho Gyeltshen, first Bhutanese footballer to sign for an I-League club, wanted to become a martial artist but took to football after seeing Cristiano Ronaldo play for Manchester United
Chencho Gyeltshen has a deep connection with Cristiano Ronaldo - at least when it comes to his football career. The Minerva Punjab FC striker, who became the first Bhutanese footballer to sign for an I-League club, was determined to become a martial artist while growing up. However, it was Ronaldo's brilliance on the field that changed his life completely.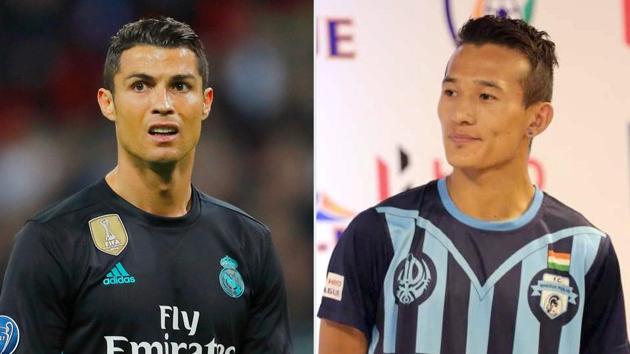 As a 10-year-old, Chencho was mesmerised by Ronaldo's performance for Manchester United and after watching one of his matches on the television, he was sure that he wanted to become a professional footballer - just like his idol.
READ | I-League: 'It's hell!' - players, coaches upset by 2pm start of matches
"Cristiano Ronaldo has changed my life, I believe. At the age of 10, I saw him play for Manchester United and I was instantly attracted to his game. I did not know anything about the game and it was Ronaldo who inspired me to become a professional footballer," Gyeltshen, who is known as the 'Cristiano Ronaldo of Bhutan' among his fans back home, told Hindustan Times.
"The thing I love most about (Cristiano) Ronaldo is the amount of hard work he puts into his game and the passion he has for the game even after so many years. He may not be as naturally gifted as (Lionel) Messi, but his hard work makes him great," he added with almost childlike enthusiasm.
READ | Sunil Chhetri, Indian football captain, to marry girlfriend Sonam on December 4
It did not take him long to prove his worth and in 2008, he was recruited by local giants Yeedzin before moving to Thimphu FC. Soon, he became a popular name in the domestic circuit and his stint with Surin City FC in Thailand made him the first Bhutanese player to play outside the country.
Gyeltshen's performances earned him his first national team cap against Nepal at the age of 19. The youngster made most of the opportunity and although they were defeated, Gyeltshen was able to score his first international goal.
But, the crowning moment for the youngster came in 2015 when he scored twice to guide his team to a sensational win over Sri Lanka in their World Cup qualifiers first round match. It was a huge win for the lowest ranked team the world at that time and the performance made Gyeltshen a household name in Bhutan.
READ | North-east India remains a bastion of football talent ahead of I-League 2017-18
"Scoring two goals against Sri Lanka and taking the team to the World Cup qualifiers was a special moment for me and the whole team. Even the people back home did not believe in us, but the win started to change things around. They follow us more now and feel proud of us now," he said.
In 2016, he became the highest paid athlete in Bhutan after signing for Bangladesh club Chittagong Abahani. He spent three months with the side before returning to Thimphu FC for a second stint.
The 21-year-old has already made a few waves at new club Minerva, having scored a hattrick against Bengaluru FC in their warm-up game. However, Gyeltshen believes he is underestimated by most people because of his nationality, which has motivated him more to prove detractors wrong with his performances for Minerva.
"When I tell people that I am from Bhutan, most of them tend to underestimate me because of our low ranking. But that makes me more determined and my goal this season will once again be to prove all of my doubters wrong and perform well for my team," he said with a smile.