I-League: 'It's hell!' - players, coaches upset by 2pm start of matches
Updated on Nov 21, 2017 11:14 PM IST
I-League's 36 games have been scheduled to kick off at 2 pm this season. With the Indian Super League (ISL) running simultaneously with I-League, not everyone is impressed.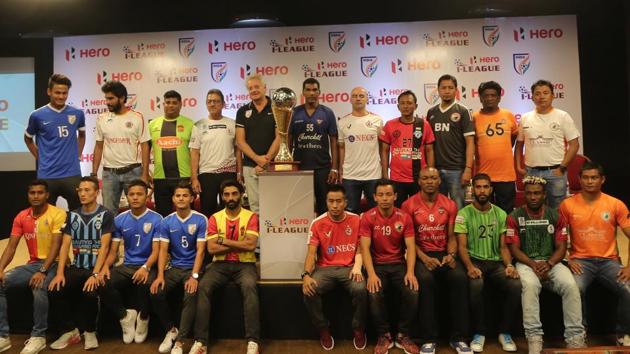 Hindustan Times, New Delhi |
Bhargab Sarmah
The new season of the I-League is set to kick off this Saturday with Ludhiana-based Minerva Punjab FC hosting Mohun Bagan in the opening game of the campaign.
For the first time, the I-League will be running simultaneously alongside the Indian Super League (ISL), with Star Sports, one of the stakeholders of ISL, being the official broadcaster for both the competitions.
While the ISL games have been scheduled on prime time TV slots, a staggering 40 percent of I-League games have been scheduled for 2 pm kickoffs.
The move has not gone down with the clubs participating in India's top-flight, and has also come under severe criticism on social media.
READ | Under-19 ISL players not released for I-League's Indian Arrows: Luis Norton De Matos
'It's hell!'
Gokulam Kerala FC captain Sushanth Mathew didn't mince words when asked about the kickoff times. "It's pathetic! At 2 pm, you cannot walk one kilometre under the sun, how can a footballer run around for 90 minutes?" he said on the sidelines of the official launch of the I-League here on Tuesday.
With Gokulam playing four of their nine home games at 2 pm, he said playing under the hot and humid conditions in Kozhikode would take a toll on the players.
READ | North-east India remains a bastion of football talent ahead of I-League 2017-18
"It's hell (at 2 pm)! It will be burning (in Calicut). Players will be tired; their performances will go down and there will be more chances of them picking up injuries," Mathew fumed.
"I would love to see games being played under the floodlights. AIFF (All India Football Federation) couldn't do it because of telecasting issues, so we cannot do anything about it. Our club is spending so much money in the floodlights and on the ground, but I think just three or four of our home matches will be in floodlights, the other games will be in day time," he added.
"Whose brain is (at work), I don't know. (It's a) very unprofessional brain," he added on a lighter note.
Mohun Bagan head coach Sanjoy Sen wasn't impressed by the timings either.
READ | Sunil Chhetri, Indian football captain, to marry girlfriend Sonam on December 4
"We cannot complain about TV slots, but 2 pm kickoffs are not good for football actually. If you play at 2 pm in Aizawl, there is no issue for the players, but if you play at 2 pm in Kozhikode, Goa or Coimbatore, then that is a major problem. I think AIFF should consider (changing the timings)," he said.
Organisational issues
Sen also lamented the organisational problems caused by the I-League and ISL running simultaneously.
"This is the first time that both the I-League and the ISL are running simultaneously, and it's very difficult (to organise both at the same time). For instance, we will be playing our home matches at the Salt Lake Stadium. But East Bengal and ATK will also be playing their home games there. It is very difficult to host games one after the other within two days or three days," he explained.
"I think these things can be sorted out if both organisations (I-League and ISL) can work together. There is still time to adjust some of the matches since there are a lot of complaints. And these are genuine complaints. I think there are some genuine issues. Now if you don't know when you are playing your first match, then it is very difficult, because in football, you need to prepare not just physically, but also mentally. You should be able to focus," he added.
STAR Sports broadcast 'a huge achievement'
AIFF General Secretary Kushal Das defended the decision to hold 36 of the 90 matches I-League matches this season from 2 PM.
"You have to understand that for the first time, I-League is coming on Star TV. It's a huge achievement. I remember when I had joined the AIFF in 2010, for two years we didn't have a national broadcaster (for the I-League). It was shown on regional channels. To come from there to the Star platform, it's a huge achievement. The kickoff times are a little different. Star is a huge platform, Star has a huge number of properties, it was a huge challenge to get them together," he said.
When asked about the lack of promotion for the I-League, Das reiterated that being on Star Sports should come as a boost to the league.
"See, it (promotion of the I-League) has not gone down. The fact that it is on the Star platform means that it has gone up. Automatically, if it is on Star, as compared to another channel, the TRP, ability to promote, sponsorship improves. So that is an opportunity for them (I-League) to improve their sponsorship, improve their TRP, etc," he said.
Personalise your news feed. Follow trending topics